Biking is one of the most adventurous activities that one can take up in the present times. Many people start biking either due to the utility of it, as an adventure sport or simply as a hobby. This has led to quite a few people who bike regularly and many who bike occasionally.
Biking is no longer considered just a men's sport activity. Due to its growing popularity and accessibility, many women have started taking up biking as a pastime hobby as well as a sport. This has eventually led to a rise in demand for good quality, comfortable and functional biking clothes for biker girls. Having good quality biking gears and clothing can make biking much more safer as well as comfortable. Many women who bike look for high quality offroad apparel which they can easily find on websites like offroadvixens.com.
Though first and foremost it is important to focus on the quality of the biking gear and apparel, on second thought one can also start thinking about the aesthetics of it. One of the quickest and easiest ways to do it is to pair up the outfit in different and interesting combinations. These combinations need not be impractical, in fact they can allow one to dress up more effectively for a bike ride. Below are some interesting combinations of clothing items that one can pair up as a biker girl:
1. Ripped jeans and studded boots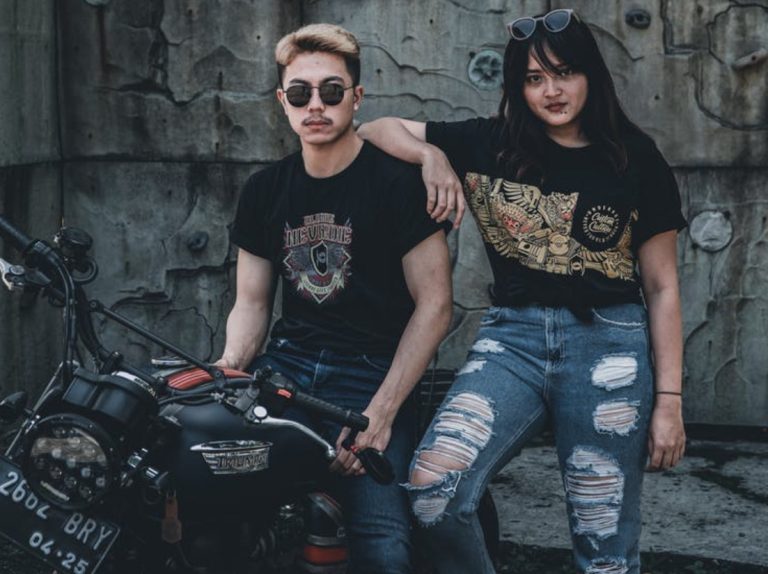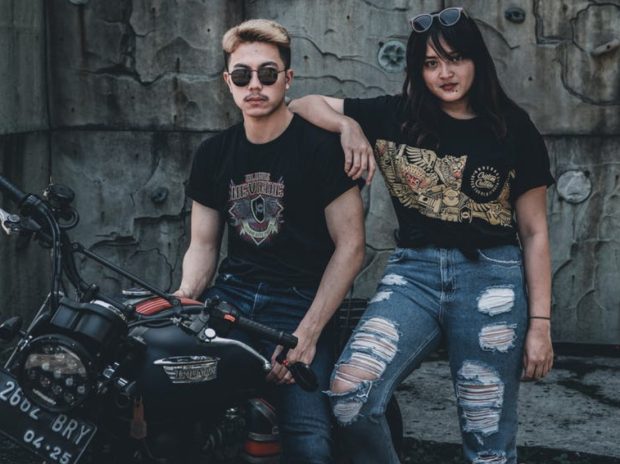 A biker girl's outfit might just be incomplete without a rugged denim clothing piece. For the first outfit combination one can dress themselves in rugged and ripped jeans that go up to the ankle and pair it with a pair of black leather boots, preferably ones with silver stud detailing.
To make the whole outfit come together, one can match the combinations with a black biker t-shirt or camisole and put on a similarly studded black belt around their waist.
2. Leather on leather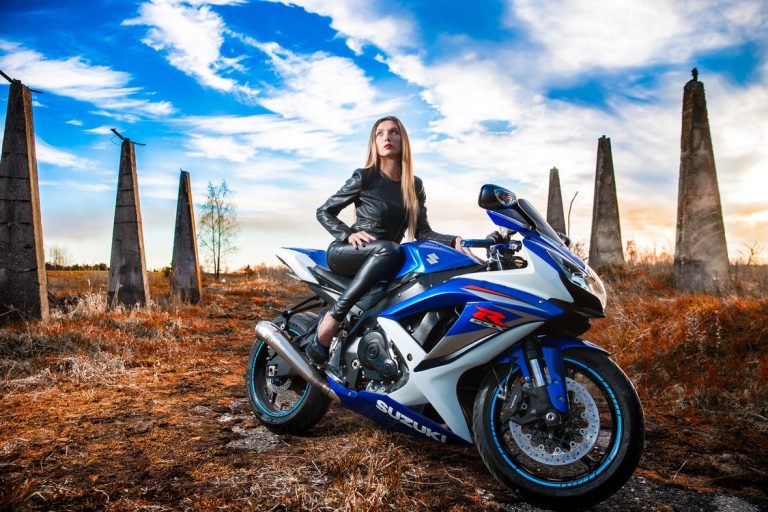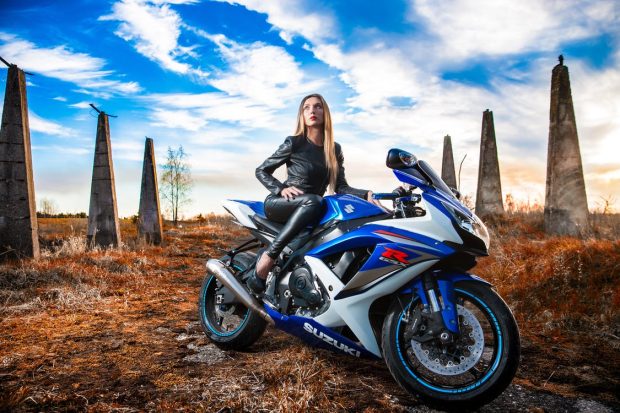 Leather clothing and biker styles go hand in hand. One of the easiest ways to pair up a biker girl's outfit is to combine leather with leather. This is quite easy to do. One can just pair a solid leather jacket with leather pants. Make sure that both the jacket and the pants are of the same colour, preferably black. This can give the biker girl look a whole new personality.
There are a lot of ways in which such an outfit combination may seem even better. One can try to experiment with different silhouettes and cuts of leather jackets, they can experiment with various designs like studded or embroidered. Besides this, wearing cropped leather jackets might also seem really cool and can be a better option for warmer weather.
3. Experiment with designer bottoms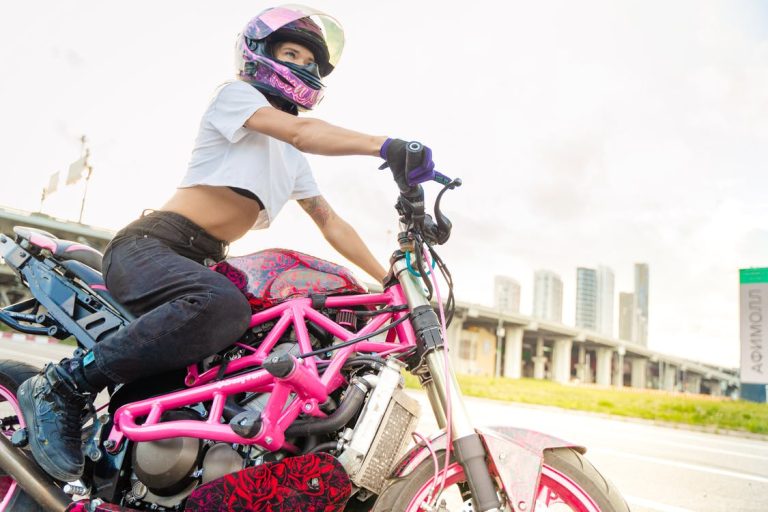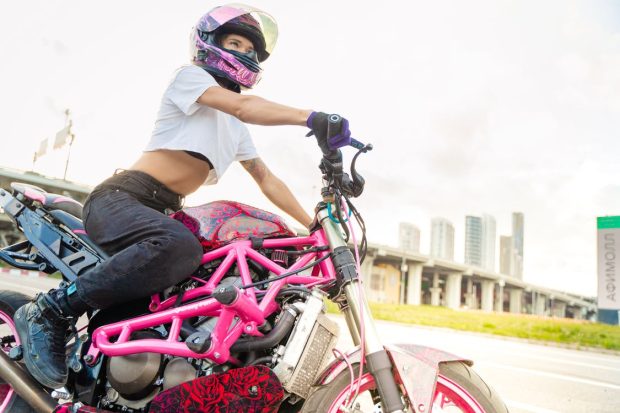 Another way to form new combinations of outfits to wear as a biker girl is to switch up the design of certain types of clothings usually associated with bikers. For example, normally biker girls prefer to wear pants made of denim and leather in solid colours like blue or black. Although these clothing items hardly seem to go out of style, experimenting with different types of pants can surely elevate the combinations of outfits that one can make.
One can try to switch up their normal pants with certain designer pants that can include some patterns and pop of colours. Slightly embroidered pants can also help in making an outfit look spectacular. Such pants can be paired with similar styles of jackets and a plain top.
4. Mini skirts with tights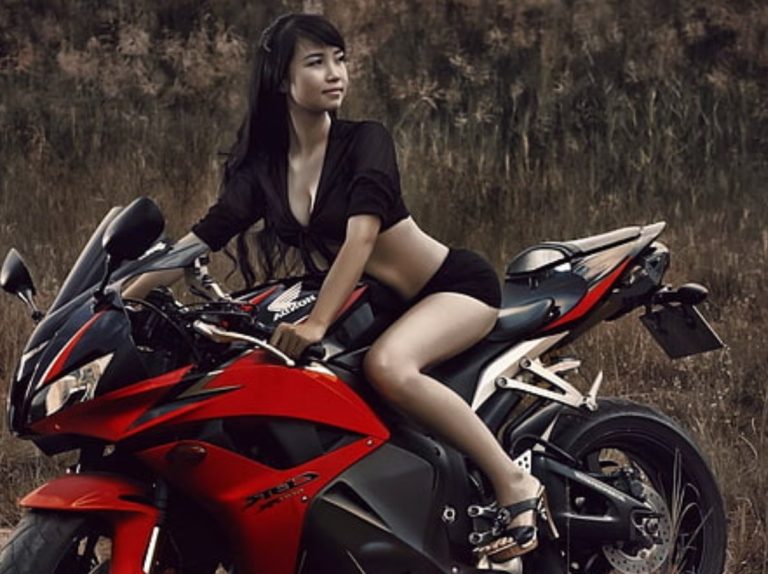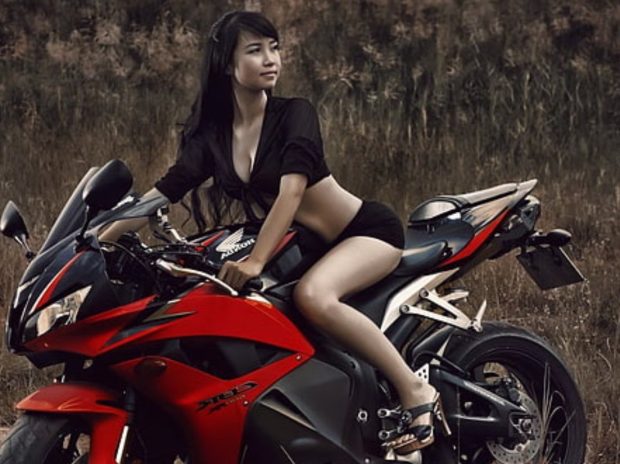 Although not very conventional for a biker girl's outfit, mini skirts can help one in forming good outfit combinations suited for a bike girl. An interesting and easy way to do this is by replacing one's leather and denim pants with a combination of mini skirt and tights.
To form an outfit out of the same, one can choose to wear a well-fitted top. With this, one might or might not want to wear a cropped leather or denim jacket. For the bottom, wear tights made out of opaque or semi-sheer material. One can also choose to wear a sheer tight or stockings based on the utility and quality of the same. Then adding a well fitted mini skirt to the combination can make the outfit look complete. This can then be paired with studded boots and accessorised with silver and black rings, choker and chunky bracelets to complement the outfit.
5. Loose fitted t-shirt and well-fitted shorts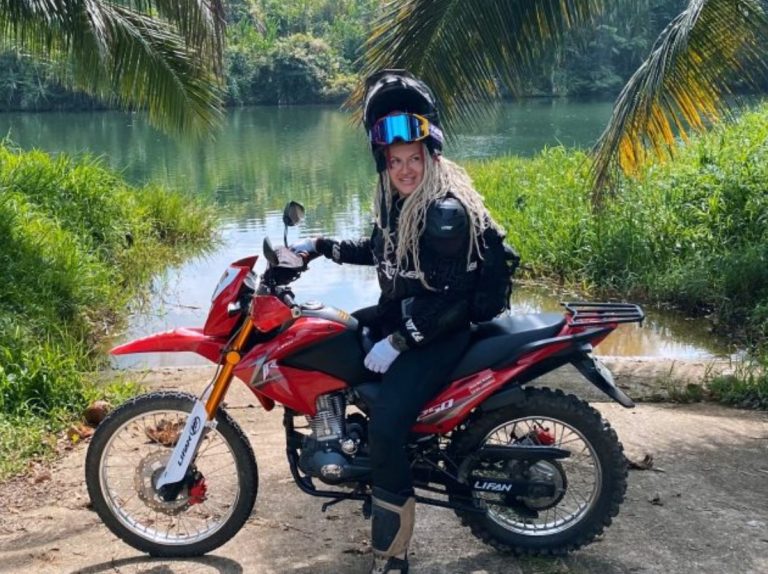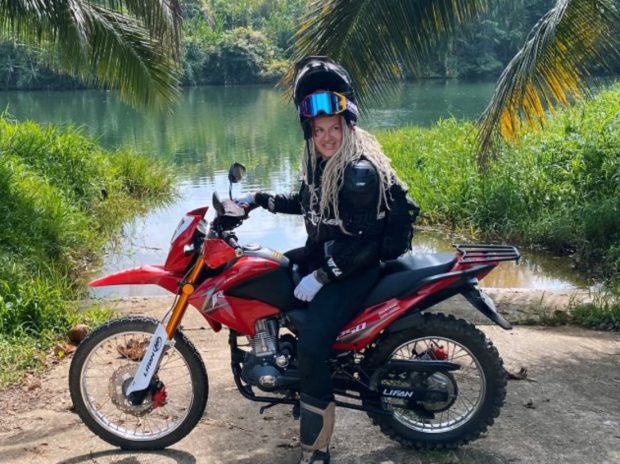 A biker girl's outfit does not always have to be tight fitted and complicated. Many girls who like to bike like to do it in comfortable apparel as it is convenient and more suited for warmer climates.
A comfortable biker outfit can include a loosely fitted t-shirt and a comfortable pair of well-fitted shorts. Paired with safety gears like helmets and knee caps, this outfit can become pretty safe for a biker.
Conclusion
Besides being an adventurous activity, biking is also something that is perceived to be a very cool activity by a large number of people especially the younger generations. This has led to quite a number of trends being set by the bikers, even in the field of fashion.
Many people are influenced by biker fashion over the years and want to incorporate it in their lives. This has eventually led to people dressing up as bikers even though they might not ride a bike.
Overtime it can lead to oversaturation of the outfits that a biker might wear. Hence it is important to come up with new and interesting combinations of Apparels that the bikers can wear. In the process of coming up with such combinations one must also keep in mind the practicality of such outfits for an actual biker.
Certain fashion trends like Denim and Leather are very favourable to the biker aesthetic and hens can be combined in different ways to create new and interesting outfits for various bikers but sometimes comfort cannot be neglected for aesthetics.