Most motorcyclists would agree that the helmet is one of the most important pieces of gear that a motorcyclist should have. It offers great protection, not only from injury but also from insects and debris flying around on the road. When buying a motorcycle helmet, there are certain important features that need to be taken into account, such as the verification of the helmet. If you're looking to practice a particular sport, there are motorcycle helmets that are more suitable for sports than others. Keep reading to find out why you should buy a motorcycle helmet and what you should look for when choosing one.
Why do I need a motorcycle helmet?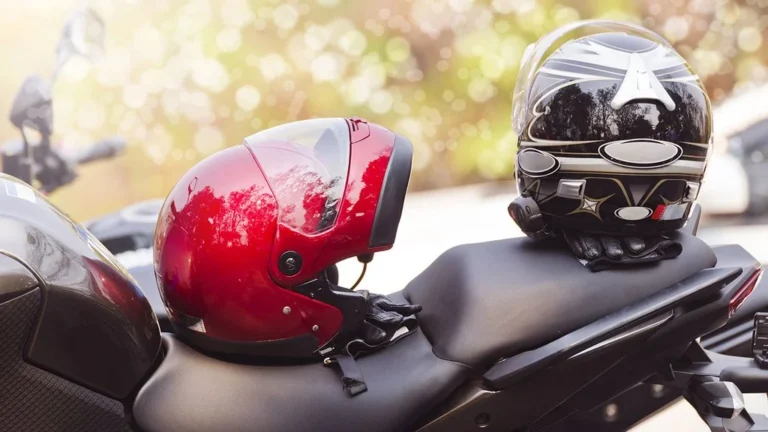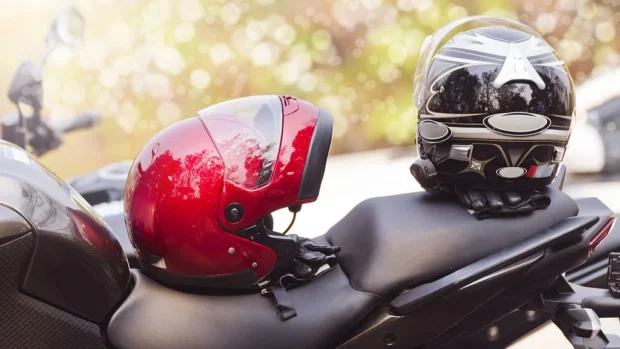 Motorcycle helmets should always be worn by motorcycle users, even when going on a short ride. Accidents happen when you least expect it and it is therefore important to prepare for it at any time. Animals suddenly crossing the road or a small stone that flies up in the sky when you drive over it can cause you to suddenly be frightened and lose control over your bike. Wearing a helmet will be a lifesaver in this case. Helmets protect your head and neck from impact and prevent severe injury or even death in some cases.
Besides giving protection during impact, helmets with special sun visors can make riding a motorcycle safer and more comfortable as well. Sun visors are just like sunglasses: they protect our sight from being blocked by the sun. This can prevent accidents, but will also make it more comfortable to ride when the sun is bright or low.
Another big benefit of a helmet is that it keeps your face clean and warm. When you're in an area with lots of sand, snow, or rain, your head will stay warm and dry. Besides, you'll be protected from flying insects and debris hitting your face while you're on the road.
What should I pay attention to while buying a motorcycle helmet?
The most important thing to consider while buying a motorcycle helmet is to never buy a second hand helmet. Not only is it very unsanitary to wear someone else's helmet, there is also a chance that it is too old to function or has already been in an impact and can therefore not offer sufficient protection. Even when the helmet looks fine on the outside, the inside mechanism can still be damaged. Never risk your life with a used helmet and rather buy a brand new one from a motorcycle gear store.
Secondly, it is important to check if the motorcycle helmet has the right safety certification. When buying a helmet, check the safety stickers on the back of the helmet. You'll find stickers that either say DOT, ECE, SNELL or FIM. Some helmets have multiple certifications. DOT is used by the USA to certify the safety of a helmet while ECE is used by the European Union to certify safety. SNELL and FIM are used to certify the safety of motorcycle sports helmets. If you're buying a helmet in the US, make sure it has a DOT certification sticker. For racing helmets, check with your racing organization whether you need a SNELL or FIM certified helmet.
Last but not least is the importance of buying a helmet that fits the shape of your head perfectly. A motorcycle helmet should always have a snug fitting. If the helmet does not fit snug around your head, but still has space to wobble around, it is too loose and you should opt for a size smaller. Loose helmets do not offer sufficient protection. If you're buying a helmet online, wrap a measuring tape around your forehead horizontally and buy the size that is closest to your dimensions.
What kind of motorcycle helmets are there?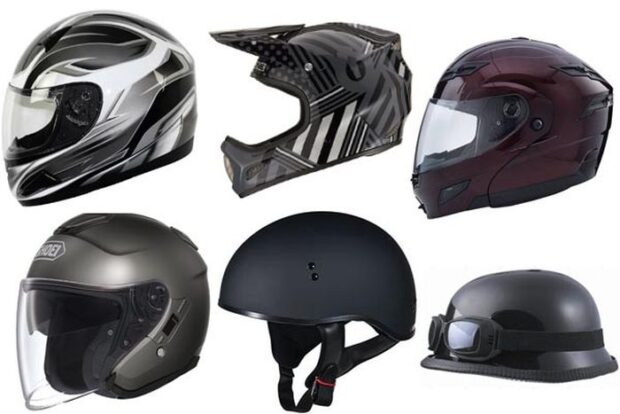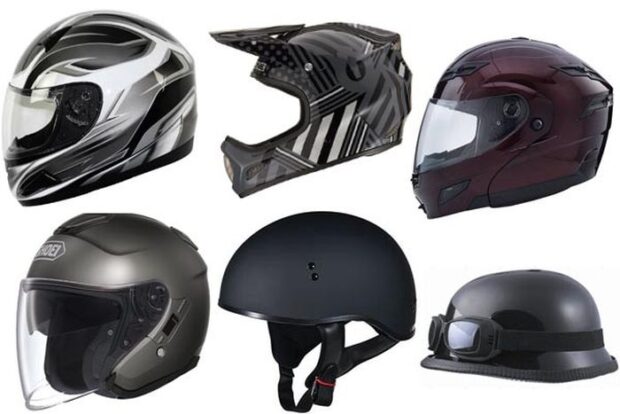 There are many kinds of motorcycle helmets. Each has its special features that make it suitable for a certain purpose. The most commonly purchased motorcycle helmets are as follows.
Full face helmet
A full face helmet is used for road trips, commuting, and other normal motorcycle activities. It offers full protection of the face, neck, and chin, because of its integrated chin guard. For some sports, full face helmets are the only kinds allowed. There are three kinds of commonly used materials to manufacture full face helmets from, namely polycarbonate, fiberglass and carbon fiber. The higher the price of the material, the higher the price of the helmet. A full face helmet can be upgraded with a sun visor or integrated bluetooth communication system.
Adventure or dual-sport helmet
An adventure helmet, also known as dual-sport helmet, is used for both motocross and going on road trips. This helmet has a peak that protects the wearer from falling sand and blinding sunlight. Adventure helmets do not have a visor to protect the eyes. Instead, most users add goggles to cover their eyes while they ride.
This kind of goggles are often combined with a tear off or roll of system that can clean the glasses hands free. This is useful because during the practicing of the sport, there's a lot of dirt flying around that might stick on the goggles. If the racer lets go of the handles to clean the goggles, they might lose control over their bikes. Hands free goggle cleaners can prevent the racer from falling, while keeping their goggles clean and their sight clear.
Off-road helmet
Off-road helmets are similar to adventure helmets, but have an elongated chin piece. This chins piece gives the wearer optimal ventilation, making it more comfortable to use. An important feature of the off-road helmet is the integrated sun visor. Off-road helmets are usually lighter, to decrease the pressure on the neck while practicing sports such as dirt biking. Off road helmets are often combined with racing goggles. Goggles should always have an elastic strap that fit tightly around the helmet, to keep them from sliding off.