Are you planning a trip to Orlando and looking for the perfect place for your family to stay? Look no further! In this comprehensive guide, there is a list of the top five family-friendly hotels in the sunny city of Orlando, Florida. Here, you'll find paradise with swimming pools that make the resort feel like an Amusement Park, game rooms full of entertainment, decadent restaurants onsite, and much more! Whether bringing a big family or traveling on a budget, you can rest assured knowing there's something here for everyone. So don't forget the sunscreen, pack all your tiny travelers, and prepare to embark on a remarkable adventure at one of these perfect family-friendly hotels!
1. Holiday Inn Orlando-International Airport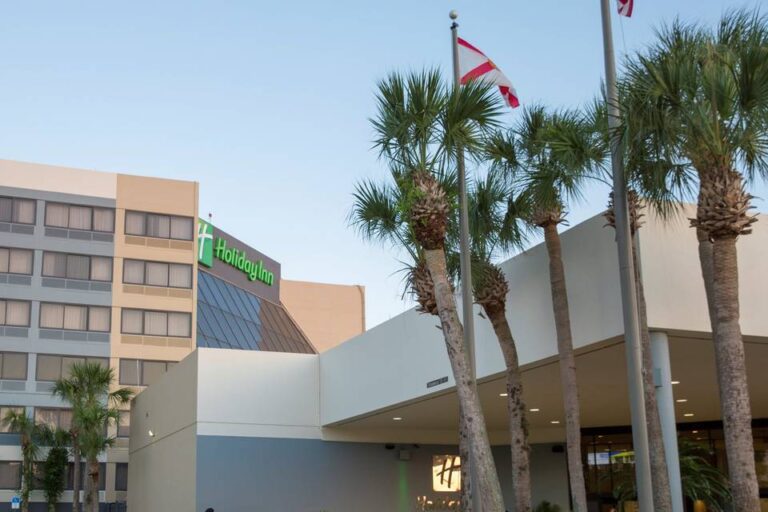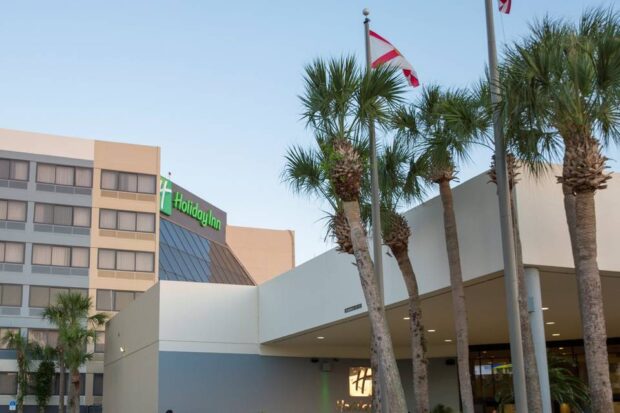 Ease into a luxurious retreat at Holiday Inn Orlando-International Airport, the perfect destination for travelers exploring all Central Florida offers. Spoil yourself with sumptuous furnishings alongside convenient amenities like coffee makers and mini-refrigerators in each contemporary guest room. Rejuvenate with an array of on-site offerings such as a sun deck, fitness center, and outdoor swimming pool. Enjoy the flavors of the Bistro Restaurant & Bar, or take advantage of the business center with Wi-Fi access throughout the hotel. For more significant events, the convenient meeting space can accommodate many guests. Make this your prime stop for work or pleasure!
2. Westgate Palace family resorts in Orlando, Florida
Welcome to Westgate Palace family resorts in Orlando, Florida! This fabulous getaway offers abundant activities and amenities perfectly designed to ensure the ultimate family experience. Immerse yourselves in the calming waters of the outdoor pool and hot tubs, and have fun with the kids at their splash pools. There's something for everyone here. Get fit with modern equipment available at the on-site fitness center, or take a break while our housekeeping staff provides daily services. Enjoy a complimentary continental breakfast and access to our delicious restaurant and bar. Plus, stay connected with free Wi-Fi throughout the hotel! If that weren't enough, the little ones would love running around and playing for hours of entertainment at the playground. And for any extra activity, why not join in a casual game of volleyball or basketball? We look forward to welcoming you to an unforgettable stay at Westgate Palace Resort.
3. Renaissance Orlando Airport Hotel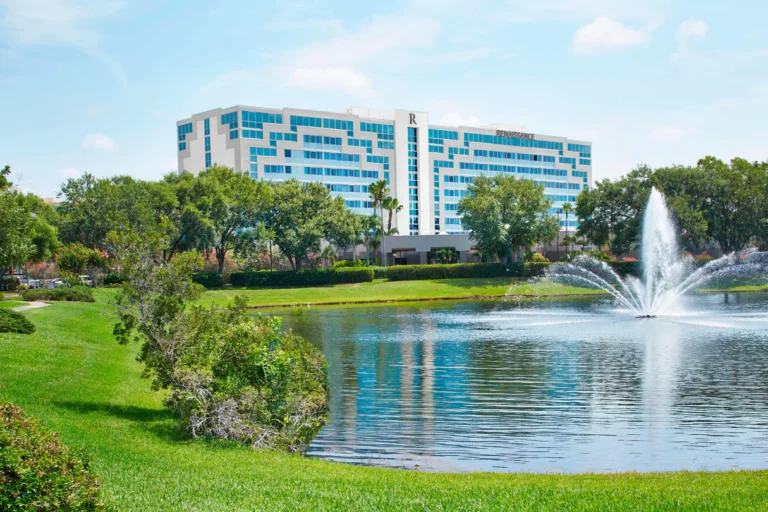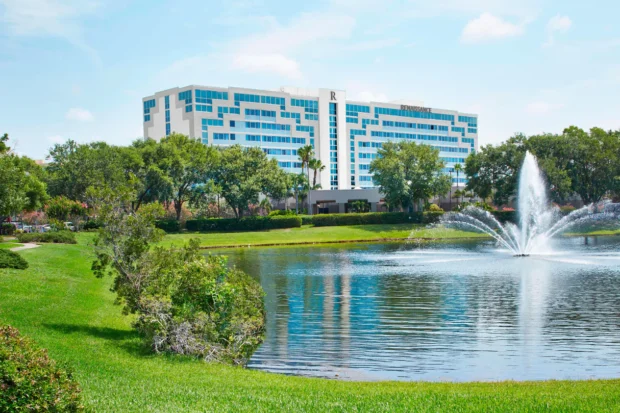 Less than a mile from the Orlando International Airport, Renaissance Orlando Airport Hotel provides an ideal option for travelers seeking convenient lodging. Guests can easily access the hotel by foot or car and enjoy free Wi-Fi, on-site dining options, a fitness center, and complimentary shuttle service to and from the airport. Additionally, the hotel caters to business travelers and special events with its selection of meeting rooms. Combining modern decor with excellent service, Renaissance Orlando Airport Hotel allows travelers to experience comfort near all the action in Orlando.
4. The Point Hotel & Suites
The Point Hotel & Suites pampers visitors with its luxurious yet affordable accommodations situated directly on the bustling harbor. Every room has a private balcony, offering magnificent views of the waterfront to let travelers take in the soothing sights and sounds of the port. Whether you want to indulge in one of the expansive suites or relish a romantic dinner at the celebrated restaurant, The Point Hotel & Suites has something for everyone. You can also unwind in the fitness center or soak up some sun at the outdoor pool area. Boasting an unbeatable location and an array of amenities, The Point Hotel & Suites will provide an unforgettable experience for all who seek a memorable getaway.
5. Floridays Resort Orlando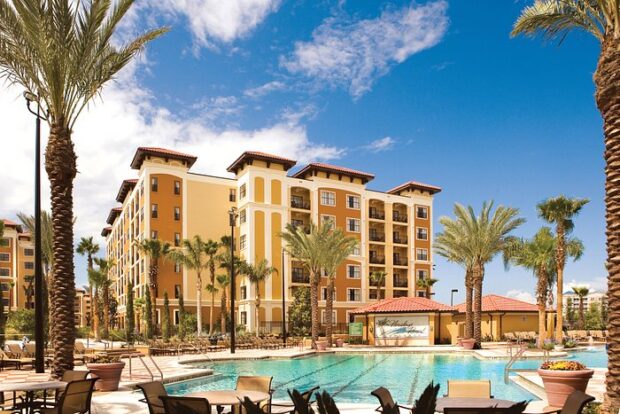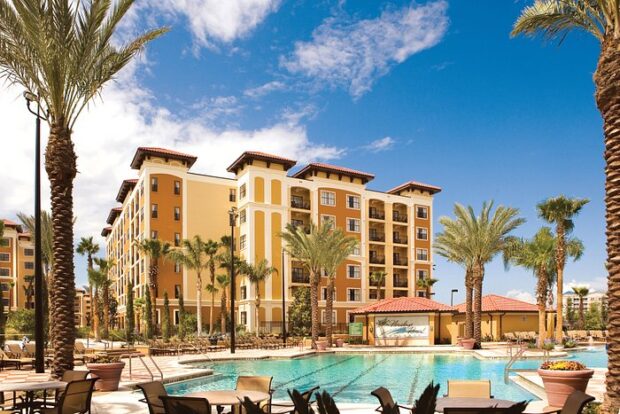 Families find Floridays Resort Orlando the perfect place for a memorable family getaway. Located right in the heart of Orlando, the resort has gone above and beyond to provide everything families could want or need to ensure an unforgettable stay. The accommodation options cater to all-size families with full kitchen facilities and amenities such as complimentary WiFi access and smart TVs with cable channels. During their stay, guests acquire access to outdoor swimming pools, a fitness center, an interactive game room, and much more. Also, Floridays Resort Orlando is conveniently close to popular Orlando attractions like Universal Studios and Walt Disney World, providing endless exciting activities for all ages. With so much to enjoy at Floridays Resort Orlando, it's easy to understand why it is now one of the top selections for family vacations!
Factors to consider when looking for a family-friendly restaurant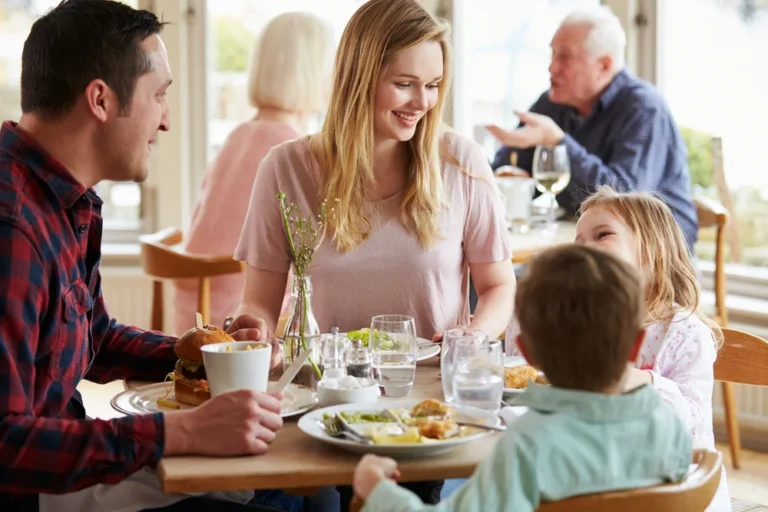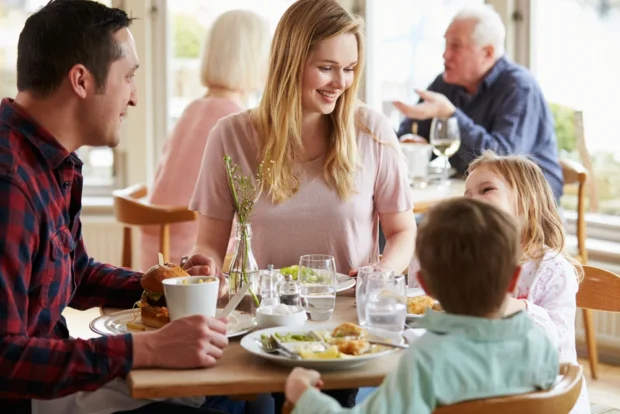 One must consider a few essential aspects to find the best family-friendly restaurant. Whether traditional or contemporary settings appeal more, knowing some crucial tips can help uncover the perfect place to dine with the kids while being enjoyable for adults. Exploring what matters most will ensure a successful and content dining experience.
1. Location
When scouting for a place to eat, location is an essential consideration. Look into whether public transport options are conveniently close by, and proceed with extra vigilance if the restaurant is situated in a busy metropolitan spot that might pose parking difficulties. Safety is always paramount, especially after dark, so pay special attention to the area's security. Similarly, think about how far the establishment is from where you live and whether or not that journey can fit into your schedule. Additionally, factor in your guests' comfort levels when selecting an eatery, as no one wants to deal with long travel distances for dinner.
2. Menu
If you're looking for the perfect eatery for your next family outing, the menu should be at the top of your must-consider list. Indeed, a comprehensive offering that encompasses something for everyone is essential to guaranteeing everyone's satisfaction with their choice of cuisine. Furthermore, regarding dietary requirements, remember to look for vegetarian and gluten-free options, as these can often be harder to find in particular locations. Of course, if you want an extra peace of mind regarding food safety, inquire with the restaurant if they are willing to adjust dishes by dietary needs – like swapping one ingredient out for another or changing up portion sizes. By doing this, even those with restrictive diets can savor a delicious meal that is sure to please!
3. Facilities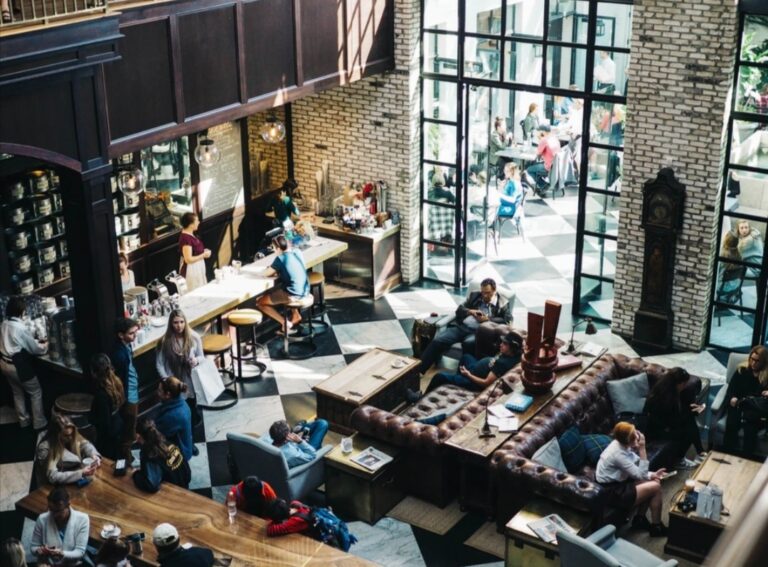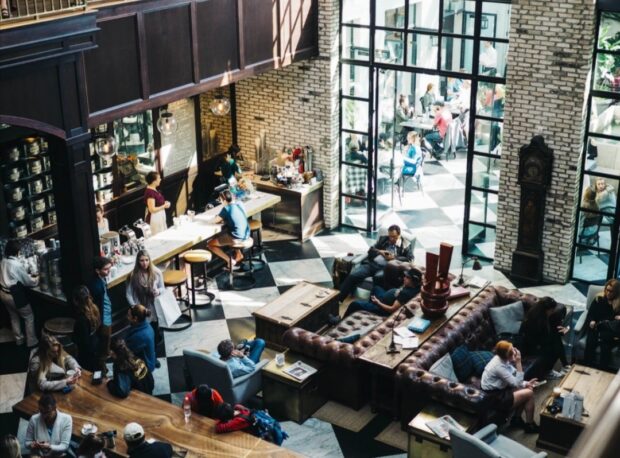 Before eating, families should explore the restaurant's facilities to make dining as comfortable and enjoyable as possible. From high chairs and booster seats supplied either free of charge or at a low cost to special accommodations such as coloring books and activity sheets, parents can rest assured that their little ones will be entertained and safe while they enjoy a meal. To guarantee a pleasant experience, it is imperative to check that the restaurant's facilities are up-to-date and properly maintained – for instance, that booster seats are intact with all necessary straps securely fastened to chairs and that highchairs are clean and free from any broken pieces or hazards that could potentially cause harm.
4. Reviews
If you're looking for the perfect eating spot, consider browsing online reviews before choosing. From the irresistible food to the alluring atmosphere, customers have left honest feedback, allowing you to get an insight into the restaurant without visiting. Comments can range from praising dishes and experiences to pointing out improvement areas. Understanding a restaurant's flavors, service, and unique features will ensure you make an informed choice for your next dining experience. So before deciding on your cuisine adventure, be sure to read reviews!
5. Cleanliness
Evaluating the cleanliness of a restaurant is essential. Gaze around to get an impression of its upkeep by examining for stains on carpets, smudges on the walls or windows, and food remnants on tables. Furthermore, watch closely how often staff members are wiping down tabletops, replenishing water glasses, and tidying up messes. The higher their attentiveness to cleanliness, the more probable they'll have a wonderful time dining in this restaurant.
6. Service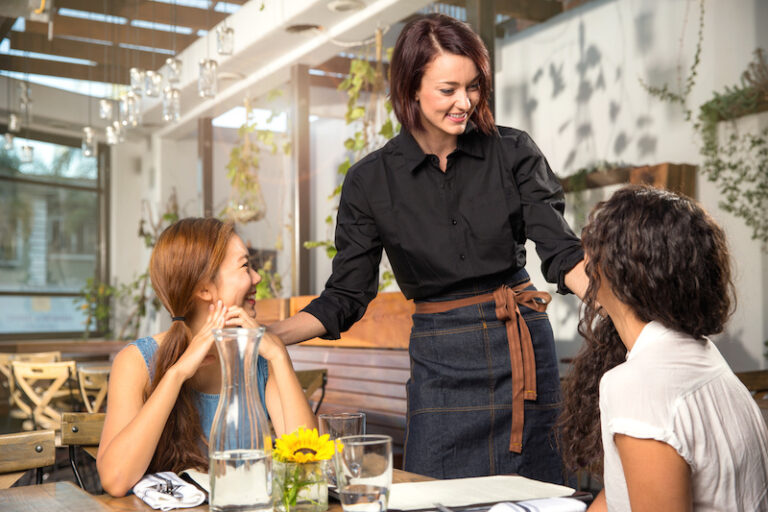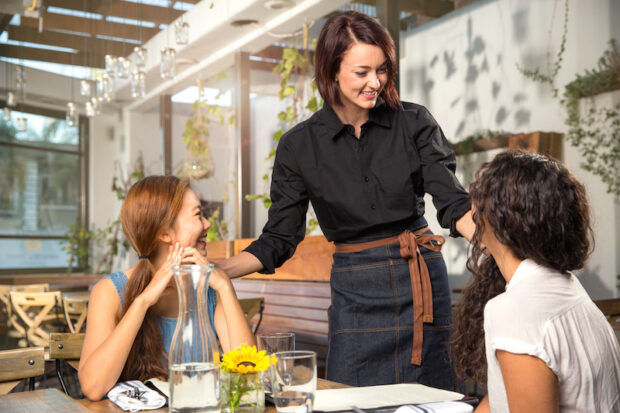 Attentive and accommodating service is essential for creating a pleasant dining experience for families with young children. Compassionate servers should aim to meet the specific needs of these families, from providing entertaining materials for youngsters to offering kid-friendly meal options. Additionally, as parents may be preoccupied watching over their children, servers must allow them more time to finish their meals or help clear the table. Consequently, patience and understanding are paramount when dealing with these customers; being mindful can ensure an enjoyable experience for all involved.
7. Noise levels
The perfect dinner spot for families, especially those with little ones, should offer a pleasant noise level. When scouting out a restaurant, keep an eye out for a place that isn't too boisterous or filled with too many people. Consider if there is a dedicated area specifically designed for households with children – this way, you can have a tranquil meal without being disrupted by excessive sound. Moreover, some eateries also offer kid-friendly amenities such as booster seats and high chairs to ensure your youngsters are comfortable and within reach of the table. Be sure to seek out a restaurant that is family-friendly but also peaceful and relaxed!
When selecting the perfect venue for a family gathering, there's no need to become overwhelmed. Investing time in advance to consider the size of your group, budget, and dietary requirements is critical to locating a restaurant that will bring joy and satisfaction to all involved. Ultimately, securing the ideal spot for a memorable evening with loved ones is always worth the effort!