Even though air fryers have become incredibly popular, there are still many misconceptions about what these appliances are and how they work. One of these issues has to do with the name. An "air fryer" suggests that these appliances perform some sort of action. Still, when you take a closer look at them you will see they are not. Instead, they have completely different usage. But that doesn't mean that using them is not something you will need to invest countless hours to understand.
It can be said that this device is pretty similar to a convection oven. They work by circulating super-hot air around and over the food, helping it to crisp and cook. So, these appliances are fantastic for "fried" foods (but they are not fried). At the same time, anything that you would usually put in your oven can also cook well in an appliance such as an air fryer.
Now that you know that there are many misconceptions regarding these products, you will certainly agree that learning more about them can provide you with an increased chance of knowing how to use them better. Without further ado, we would like to provide you with a couple of tips that can help you make a better decision on which one of these you should purchase.
How To Choose The Right Air Fryer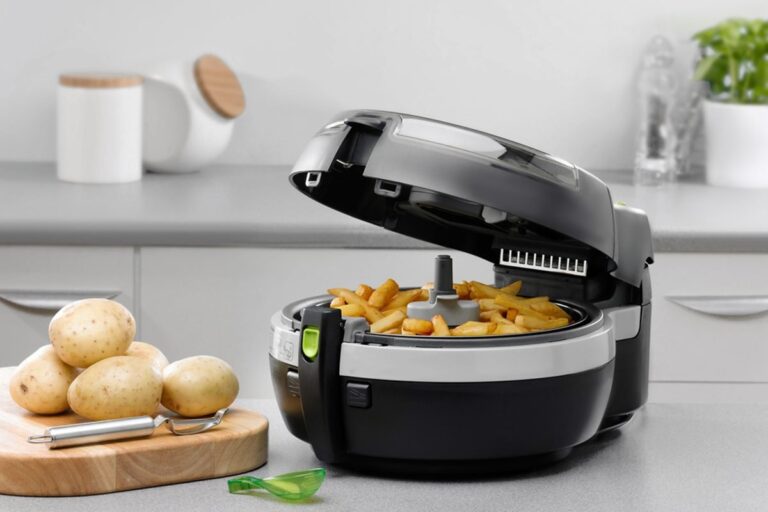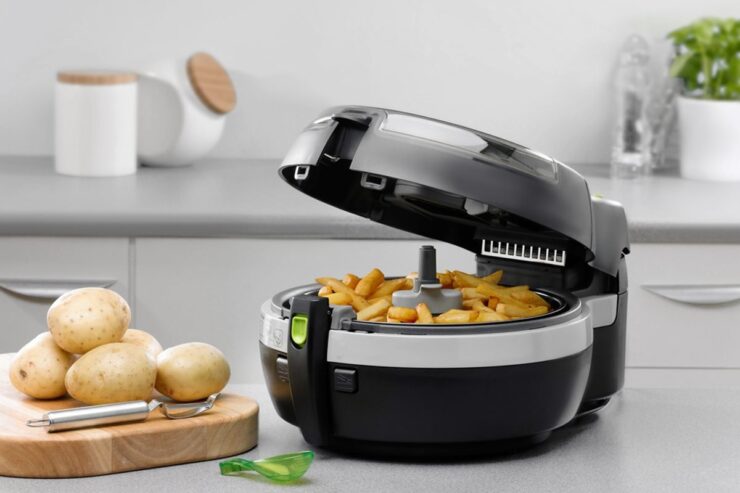 According to MyHomeSelection, both air fryer toaster ovens and basket-style air fryers both do a great job of air-frying, so the decision between these two styles will come down to your counter space. First, we would like to point out that knowing which one of these you will use depends on how much space you have in your kitchen.
Meaning, having a small space where you can put these will force you to opt for a smaller one, right? In most cases, these ovens occupy more space, but they also perform more functions than just basic ones. They also toast, broil, warm, bake, and a few even include a rotisserie feature. Therefore, you will need to pay attention to this aspect.
The basket-style air fryers take up less space and they only perform one function. They also can't take as much food as other sorts of this product. Basically, the decision on which ones you will purchase will solely depend on your personal requirements and preferences. Therefore, considering these should be an absolute must.
Instant Pot Fryers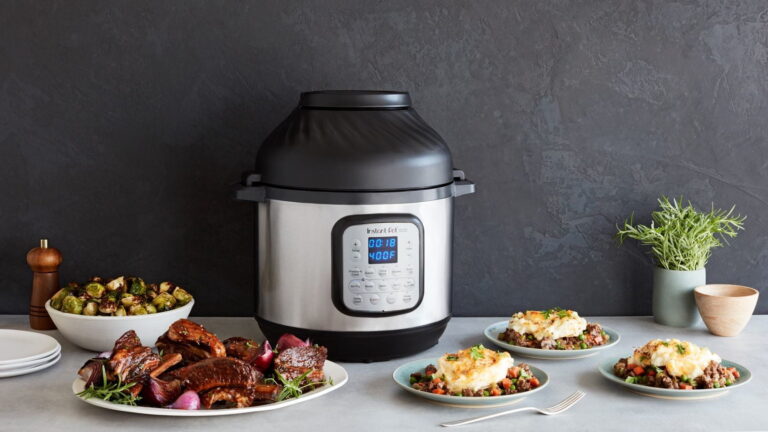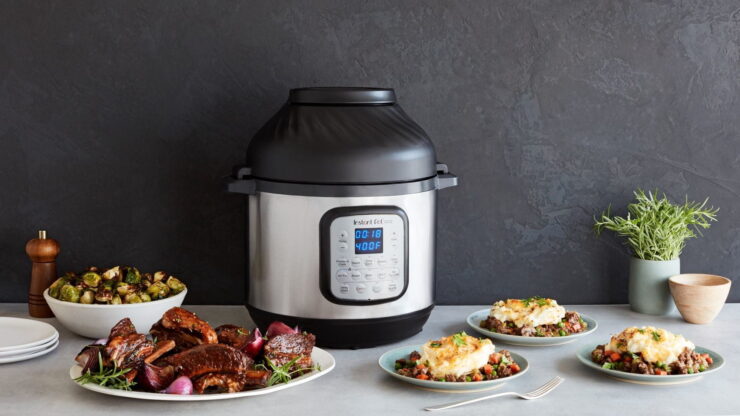 If you own an Instant Pot already and you are interested in purchasing one of these, we suggest rather buying an air-fryer lid for your Instant Pot. Just make sure you find a lid that you can use with your Instant Pot model before you buy. The best way to describe this is to say that this is a win-win situation.
Meaning, you will not need to invest a lot of money into getting what you need. Not to mention that purchasing two separate devices can increase your energy bills. Naturally, avoiding these should be an absolute must. Thankfully, combining two devices into one will provide you with a chance to do so.
The largest difference between air fryer ovens and basket-style air fryers is the way each appliance is configured. For example, with basket-style air fryers, it is possible to shake the basket to flip the food over. With the ovens, you will need to turn your food over by hand. But in most cases, you probably won't have to turn your food since the meal will cook evenly due to the air circulating around your food.
One of the other differences between these two styles is capacity. Many of these ovens typically hold more food when compared to basket-style air fryers. Without any doubt, taking the number of your household members is a must. Preparing a meal for one or two people will not require you to look towards purchasing a device with a bigger capacity, right? But, if there are more of them, smaller devices will be surplus to requirements.
What To Look For In A Fryer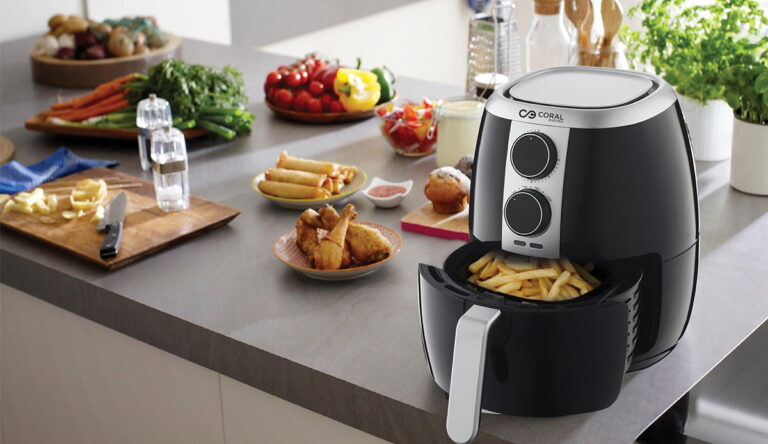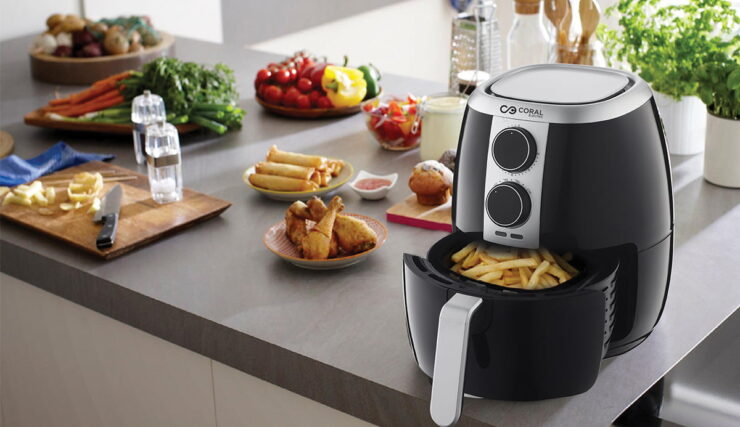 1. Space
The first consideration before you buy an air fryer is to make sure you have enough countertop space. If you regularly make chips, you will want an appliance that you can leave out permanently. The two common shapes are fat and tall. Examples of these models include the Kambrook AirChef, Bellini Digital Air Fryer, and the Philips Vivo Air Fryer.
The other shape includes the slightly fatter and short such as the DeLonghi Multifry and the Tefal Actifry. You may want to stay away from a top-opening model if your space is restricted since the lid opens upwards. If you plan on packing it away after each use, rather go for a uniform and compact shape that slides easily into one of your cupboards.
2. Cleaning
Parts usually fit into domestic sinks and are not difficult to clean. Many of the parts are also dishwasher-safe, but they are also easy to clean by hand when they have non-stick coatings. However, it needs to be said that some of these devices come with their own rules for maintenance.
With that in mind, you can take a look at a couple of these before you make the final decision. In some of these cases, cleaning doesn't require any effort at all. But it usually means that you cannot expect them to perform some sort of enhanced functions. Chances are they cannot provide you with something you truly need. So, buying these is a bad option.
Many people make the mistake of comparing these to some other kitchen appliances. When you take a closer look at these, you will see that it certainly isn't the case, especially when it comes to cleaning. The only similarity between these and other appliances is that you can use practically the same chemical products to perform it.
3. Controls
The controls are available in either digital or dial. The dial controls are less accurate and more basic, with just a timer dial and temperature dial. Digital controls feature a touch display with accurate temperature readings and a timer. Sometimes, these functions will be much simpler. It all depends on the complexity of its interface. So, having an insight into these is a crucial thing to pay attention to.
Some models also include pre-programmed settings. Look for a model that includes easy-to-understand icons, and a timer that sounds an alarm once the meal is cooked. Be sure to take a look at all of these functions before you make the purchase. That way, you will know what you can expect from the device. Being prepared is always an important thing, isn't it?
Final Thoughts
Before you head out and buy yourself an air fryer, make sure you have enough space on your counter. Multi-function appliances such as this one will perform an air fryer function, along with many other impressive functions, but they do take up a lot more space.
Finally, having enough space or you just want a faux-frying application for crispening up dinners or appetizers every now and again, the classic air fryers are just what you need. Just ensure you get a model with a basket that is big enough to handle how much food you plan to cook for your family or yourself.