Pole party tents, universally acclaimed for their durability, usefulness, and general originality may add a quirky design element to any outdoor wedding area.
A wedding tent has an air of elegance and timelessness about it. Tent weddings give a charming and elegant way to celebrate the delights of a wedding celebration, from the magnificent blooms and ceiling decorations to the romantic lighting changes.
Wedding event tents come in various shapes, sizes, and colors, making them the ideal venue area for your specific wedding demands, regardless of the season. These sturdy structures, whether white, transparent, or multicolored, offer a gorgeous accent to any cocktail hour, outdoor ceremony, or alfresco reception.
Create softness with flowing drapery, bring the outdoors in with real plants and trees, or set the tone for your post-ceremony décor with a range of ceiling installations. A variety of unique décor, imaginative lighting, and custom flooring can help set your wedding canopy or tent apart from the crowd.
Types of Wedding Pole Tent Features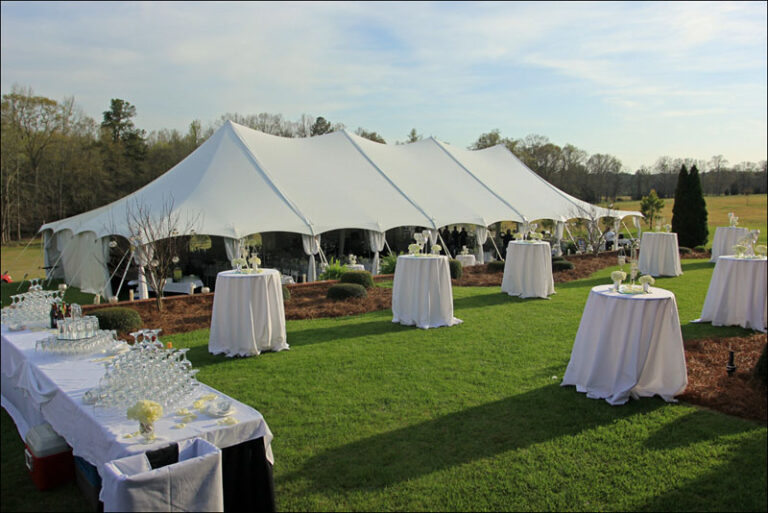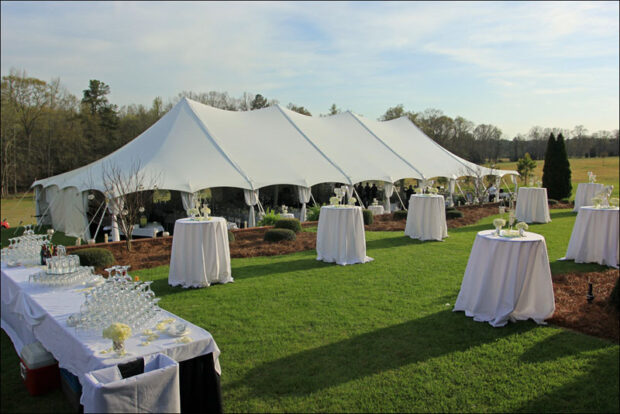 Pole Tent Lighting for Weddings
How do you illuminate a wedding tent? Lights in pole tents can give visitors a sense of seclusion and enclosure while preserving gorgeous views and a lovely summer breeze. String lights convert any place into a beautiful dreamscape, from luxurious drapery to spectacular ceiling installations. Continue reading to learn about this one-of-a-kind and magnificent wedding tent style.
You may use twinkling lights instead of standard illumination to recreate the beautiful and magical appearance and feel produced in the ballroom following the wedding. With hung fairy lights, an open-air frame tent wedding transforms into an exotic environment. Overhead blooms, shimmering drapery, and romantic lighting are just a few of the enhanced features from this nighttime wedding with decor and rentals.
Discover the floral-forward table sets in a luxurious wedding tent to create a fairytale wedding feel that will set the tone for the entire event.
Pole Tent Draping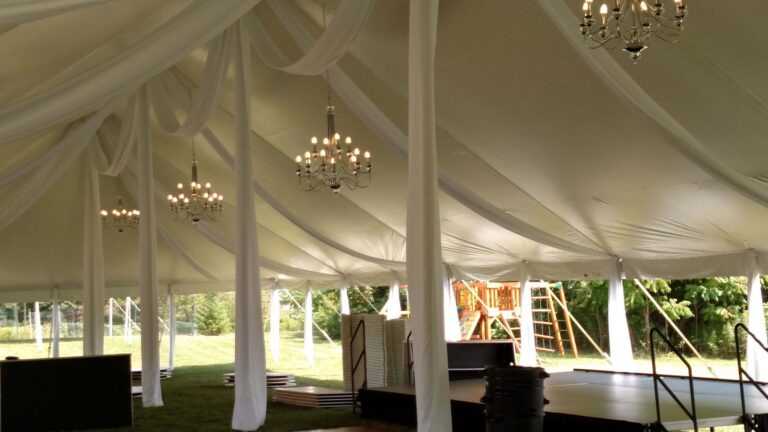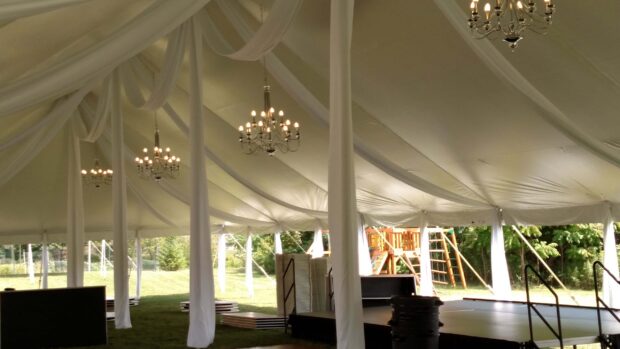 Soft draping is one technique to add glitz to your tent's design while avoiding using extra rentals. The commercial tent's design's depth creates the ideal mood for an exquisite outdoor occasion.
Traditional white wedding tents for sale are timeless. This adaptable wedding tent includes canopies, pole tents, frame tents, and sailcloths.
White tent weddings provide the ideal blank canvas for your preferred décor, style, or theme. It merges classic and new styles with ease, and the outcome is sheer enchantment.
Other lovely elements for custom party tents in an outdoor wedding party are one-of-a-kind fruit centerpieces and personalized place settings.
Bring Attention to Your Head Table
A flower display that hangs horizontally over your head table, usually where the newlywed couple is sitting, is a creative approach to creating a focal point inside your tent.
To create this eye-catching arrangement, you may use soft flowers, chandeliers, and romantic draperies. Hanging flower displays are not only popular, but they are also great for drawing attention to the height of your tent.
A floral display will focus your visitors' attention skyward, allowing them to appreciate your tent's beauty fully. Elevated floral arrangements can also save room on your table, allowing you to skip the centerpiece entirely in the tents for sale.
Clear Pole Tents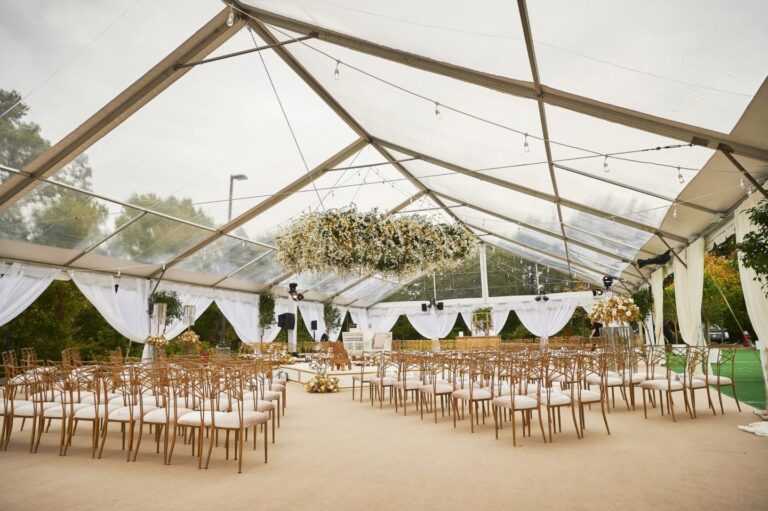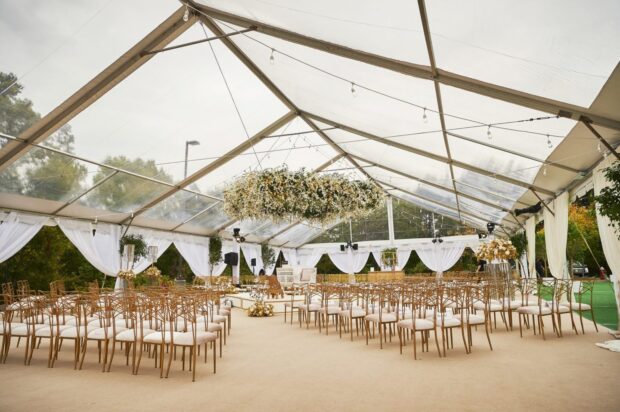 A transparent wedding tent is ideal for couples who wish to enjoy the outdoors regardless of the weather. Clear tents not only provide a view of the stars, but they also attractively reflect chandeliers and lighting. In addition, open floor layouts and uninterrupted vistas are possible with transparent pole tents.
Wedding planners and design teams will appreciate the freedom to create your wedding vision without working around poles or other obstacles.
Your creativity may run wild with a clear-top tent wedding. A transparent tent enhances this realm of candlelight in a pole tent for sale.
Create an Eye-Catching Entrance
Create an entry befitting of a one-of-a-kind event to set the tone for your tent. Attract the attention of your guests with an eye-catching entrance in a 30×45 tent for sale.
With your surroundings having such a strong impact on your overall theme and tented design, why not include natural materials in the interior of your day of space?
By taking saplings from the soil and bringing the outside in, we can add natural elements to our tented weddings. It's great for couples who want to establish a striking tone for their wedding. A splash of color to the tent's exterior trim It is critical to pay attention to the outside and interior.
Pole Tents And Canopy Tents Combined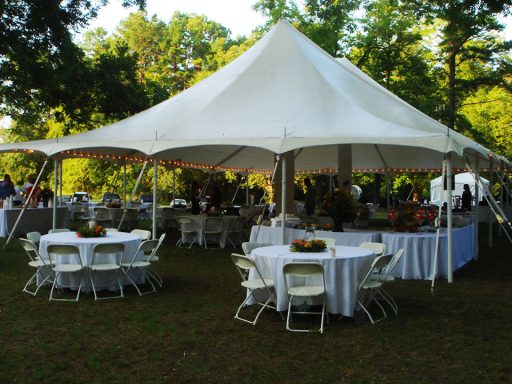 Imagine a magnificent 40×60 pole tent on a spacious lawn, and you'll probably think of a wedding canopy tent. With their towering pitched roofs, these classic tents grab the imagination.
Sailcloth tents, similar to pole tents, are another popular choice for capturing natural light while adding a nautical flavor to your scene. While a pole tent wedding has some limits, a skilled wedding planner and design team may work together to develop a floor plan that maximizes such a space.
Lush hanging foliage skirts the room and gives the sailcloth tented can provide event lightness in a pole tent. A transparent white pole tent with canopies may be adorned with rustic and vintage touches, such as a hardwood bar, wooden furnishings, and blazing candelabra.
On the other hand, the vibrant and bright color palette steals the show. Guests were invited to their seats by coral linen and rich flower centerpieces. Who doesn't adore the brilliant ceiling show made by a wreath of hanging blooms across the white tent backdrop?
Add Some Pops of Color
Look for design inspiration in your surroundings. Incorporate natural tones that match the geography of your surroundings into your color pallet. Wooden accents helped to define the rustic design approach of an airy tented celebration. Incorporate small color suggestions at the top of your tent to assist create an overall coherent motif.
You may boost your area and structure with changing tones, colors, and hues depending on your day-of color palette.
Enhance the outside of a basic white canopy with an extravagant cascade of blossoms and foliage. Finish the look by hanging tea lights inside and placing taper candles in glass vases on each floral-adorned tablecloth.