Spring and summer are the right time to enjoy on the balcony, in the yard, or by the pool. Here, people mostly install decks in these places. However, if you choose a wooden deck, it is clear that you will need to protect it well. Here we primarily mean waterproofing. But how best to do it? Therefore, look at our 2023 guide on how you can do it.
You Need To Maintain The Wooden Deck Regularly
The first days of spring and late autumn are ideal for protecting outdoor wooden surfaces. This time, we pay special attention to wooden decks that have become very popular. There are two types of deck flooring – solid wood and WPC decking. If you opted for natural wood, you got a beautiful floor covering – but this requires maintenance. Depending on the type of wood and its exposure to atmospheric influences – wooden deck treatment is required once or twice a year. Decking is mostly located in the open space, for example around the pool. Therefore, it is constantly exposed to the sun and water – and for this reason, it is necessary to treat it twice a year. On the other hand, decking floor coverings that are located on a terrace that is covered and protected from atmospheric influences – don't have to be treated so often. It will be enough to coat such a decking once a year or even less often.
Waterproofing Your Deck Is The Main Thing
At the beginning of the new season of staying outdoors, your porch, yard, or the area around the pool is looking forward to a little spring cleaning. Whether you want to rid your deck of old stains or you want the gray wooden surface to shine again with its gorgeous, brown tones – in each of these two cases, use a care product that best suits your deck. In addition, it is very important to pay attention to the waterproofing of your deck. Exposure to atmospheric changes, pool water, precipitation, etc. – can greatly affect the damage to your deck, so you need to take care of it on time. Regular maintenance of the deck will not only improve its appearance – but the wood will be more protected from the sun, it will be more resistant to water, so the floor will last longer. And what else can you do when it comes to waterproofing your deck? Take a look at some tips.
1. Test the waterproofing of your deck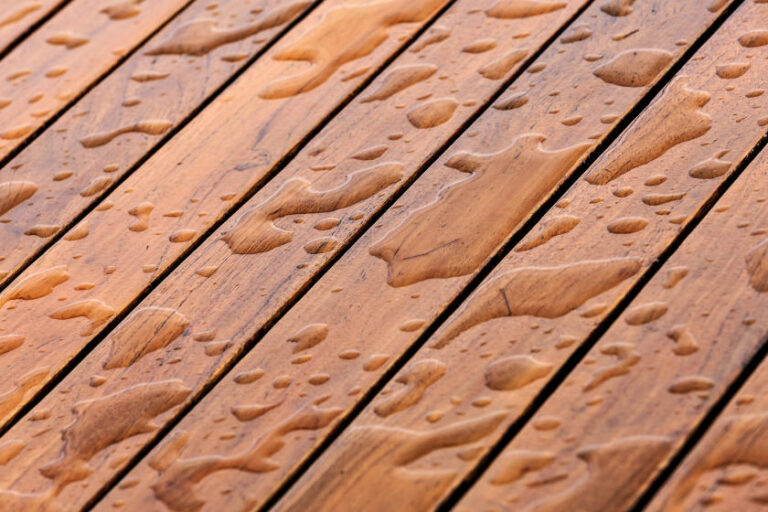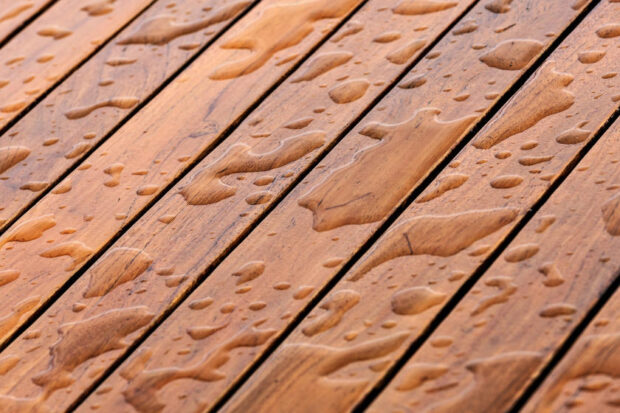 One of the basic tricks you can use to check the condition of your deck when it comes to waterproofing – is this one. Sprinkle some water on your deck. Not much but just a few drops, and then look carefully. If water beads up – that is a good signal that everything is OK for now. So, your waterproof deck protection is still good and you don't have to deal with it right now. However, according to decksforlife.ca, if the deck begins to absorb water it means that either the final layer on the deck is damaged and leaves the wood unprotected – or it's time to work on waterproofing.
2. Properly prepare your deck for the waterproofing
If you have detected a problem, it is clear that you will have to deal with waterproofing your deck. Before you start doing anything, prepare the ground for a job like this. This practically means that you should remove everything from your deck and clean it well. Don't forget the tiny pieces of dirt are hiding between the boards. If any wooden boards are damaged or loose – solve this problem before starting waterproofing work. If you use a pressure cleaning machine to clean your wooden deck – make sure that the pressure is not higher than necessary. Otherwise, you may damage the wood even more. Be sure to level all uneven surfaces on the boards or areas with micro-cracks with a sander. In this way, you will achieve an effect where the new layer of waterproofing agent will be better fixed – and thus provide better protection for your deck.
3. Use compatible cleaners to clean your wooden deck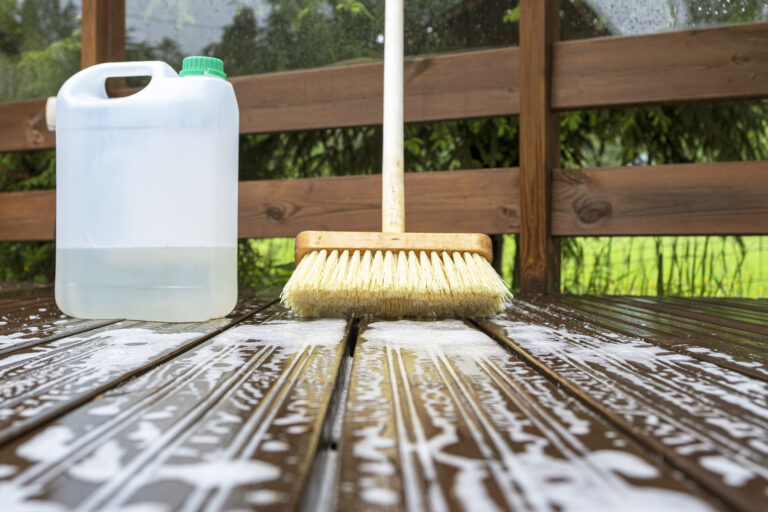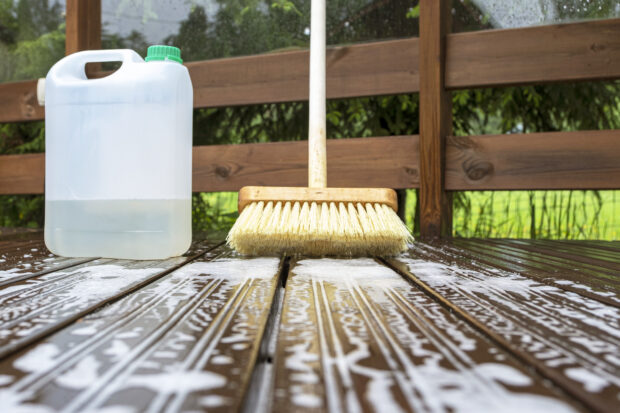 It is also significant what means you use when you clean and maintain your deck. You should not use too strong and invasive cleaners because this can significantly damage not only the deck wood – but can also weaken your waterproofing which, over time, begins to leak water causing even more damage. Therefore, before using deck care products, read the manufacturer's instructions carefully.  Is the product intended for wooden decks, or if so – for which types of wood? Although this may not seem so important to you – take our word for it, it is!
4. Thermal treatment of wooden decking
Thermo-treated wood is the most resistant wood to external influences. Heat treatment of wood is a procedure by which the properties of wood are changed without the application of additional chemicals, only under the influence of heat, pressure, and moisture. Wood is not processed at high temperatures from over 100°C to over 250°C. The thermal treatment gives the wood a darker shade, the wood changes its properties, and it becomes more resistant to water and insects. Also, the dimensional stability of the wood is improved.
5. Use waterproofing that has UV protection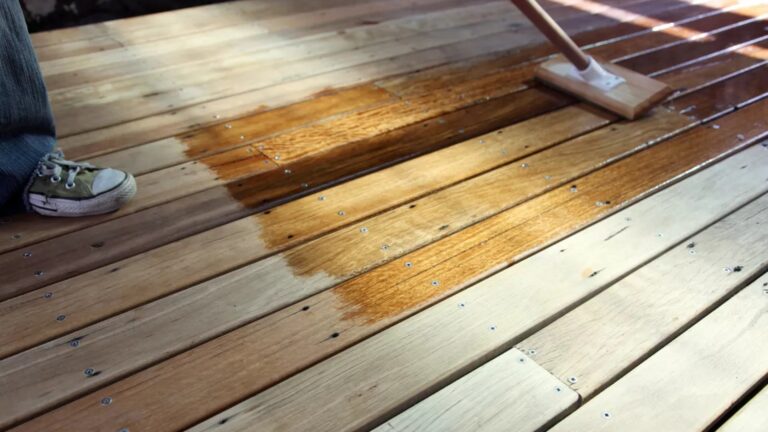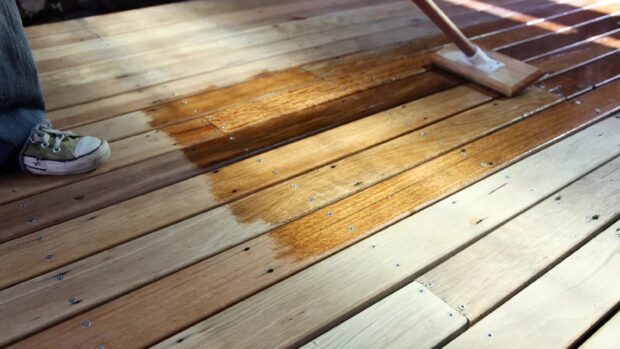 This is also very important because your deck is exposed to the sun and high temperatures. When this factor is combined with the moisture factor – it often happens that micro holes are made on the waterproofing layer, and they start to leak moisture and water. In this way, your deck will begin to deteriorate due to the penetration of moisture, leading to cracks due to solar radiation. Also, due to strong UV radiation, only the wood on the deck boards decays, which begins to fade, lose color and shine and become porous.
The Bottom Line
Once you have set up the waterproofing for your wooden deck, be sure to leave it for at least 2 to 3 days to dry and start to work properly. Then you know that your hydro protection will be adequate and that your deck will be safe.