Currently, the cost of living has been affected so much by different factors including the huge costs for electricity bills. To moderate the living cost, the government has requested for introduction of solar heaters for residential and firms using huge amounts of water per day to incorporate the use of these heaters. Seven Stars solar water manufactures have stepped in to provide individuals with these gadgets.
When it comes to choosing a water solar heater, there are several factors you should consider. Seven stars water solar heaters manufacture have such factors into consideration. This makes them the best solar water heaters producers in Kenya.
Why consider Seven stars solar water heaters?
There is quite a number of reasons to choose these products over products from other manufactures. These reasons include;
Variety of products to choose from
This company understands that different clients have different requirements and taste. They have quite a number of solar heaters of different designs from which customers have the opportunity to choose.
Guaranteed warranty services
Products from this Seven Stars Solar have warranty offers covering product defects relating to the manufacturer. The company has a good recognition with the public, no need of having doubts with their products.
Standardized and favourable product prices
Products from this manufacturer are of the highest quality and what is amazing is that their products are fairly priced despite the good quality. They believe in delivering quality to clients at an economical and fair price.
Brand recognition and certification
The fact that their products have been approved by different boards of product standard scrutinization, reveals that their products are of high quality and meet every standard required for them to be used. Thus the company has a good reputation in the current market, with client satisfaction and quality delivery.
Types of Seven Stars Solar Water Heaters
These heaters are of various types and designs. Some of the different types are as described below;
Pressurized Solar Water Heaters
In this system, the pressure of water inside the tank is high and the same as the pressure in the tap. This means that you have the freedom to decide where you can situate your tank. There is a liberal option of either installing your heater at the house roof or on the ground. Also, the water tank is completely confined and can be installed anywhere you prefer.
Non-Pressurized Solar Water Heaters
This type of heaters have tanks that depend on gravity force to pressure water down to taps and showers. The tanks have a hollow top for moderating pressure and water temperature. This limits the tanks to be only installed outside of the house and mostly the roof. Also, the solar system is placed on the house roof.Below is a picture of solar collector on roof top;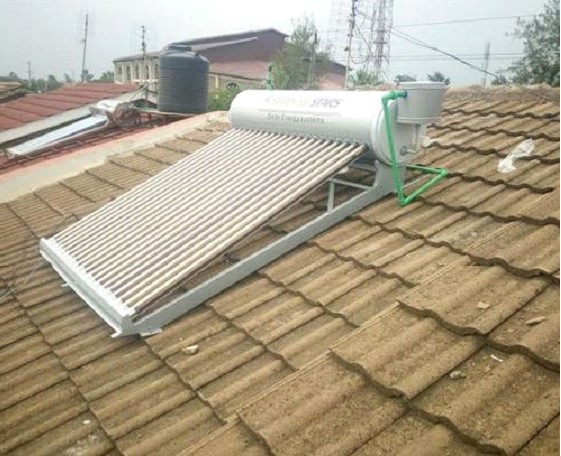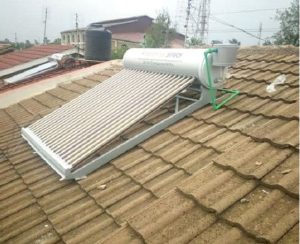 Flat Plate Solar Water Heaters
This is one of the current innovation of water heater by this manufacturer.This system has the capacity to push water to already installed tanks rather than use of water heaters.
Benefits of Seven Stars Solar Water Heaters
Some of the benefits of choosing these brand products are as follows;
Simple to operate and maintain
This system when demands very little maintenance mostly when the installation was properly done.Unless in a situation where the system breakdown,its required to have have check up on utmost twice a year.
Count on installation services
Installation of products of Seven Stars Solar heaters are always facilitated by professional experts as directed by manufacturer.This means that you can trust on the companies services and products.
To get quality delivery and certified products at an economical prices,consider contacting Seven Stars Solar Water Heaters and all you needs will met as soon as possible.