Just like other rooms, the kitchen is the area in your home which requires special care. You have to look at the details of every corner. From floor to ceiling, every single thing matters. As far as the floor is concerned, it has to be strong, durable, easy to clean, and soft underfoot. So, out of all the flooring options, kitchen floor tiles are still the most popular ones. 
Every flooring material has distinctive features. Their texture, color, design, and application are not the same. So, you have to consider many factors to choose the best one for your kitchen. Also, the material you prefer will determine its lifespan. 
Well, you have various options for kitchen flooring. But, the most in-demand floor types are as follows:
Porcelain floor

Ceramic floor

Hardwood floor

Hydraulic tile floor

Marble floor

Cement floor

Laminate flooring

Vinyl flooring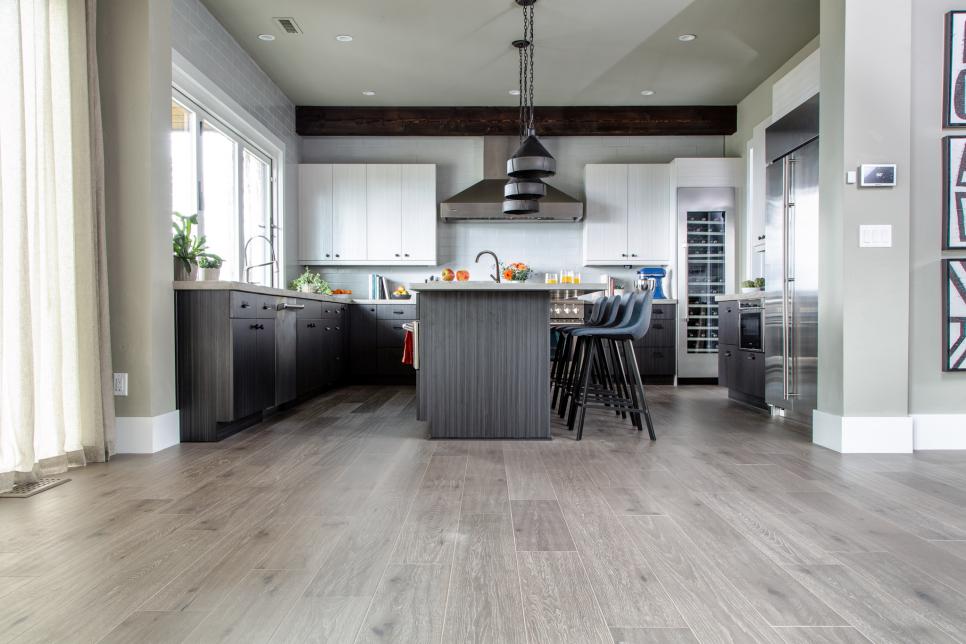 The most popular floor material is porcelain tiles. They are best suited to kitchen floor tiles for home. It does not spoil the look of your cooking area in any way. Also, these tiles come in various textures, colors, and designs. In addition, they are smooth, shiny, and have a mirror effect. Plus, they are resistant to stains and scratches. 
Some of them have much thinner edges than usual. In the same way, they are loved for their sophisticated finish. But, be careful while choosing the finish as it can be slippery underfoot.
Ceramic is another most durable tile for the kitchen area. This one differs from porcelain as it is not that resistant. But, these tiles are the best choice for a smooth floor. Also, they can resist stains and spills very well. That is why they are durable and easy to clean. To add, they are synthetic as they come in many colors, shapes, and designs. 
This floor type is still in demand for its solid wooden texture. These floors are durable, warm, and water-resistant. Also, they can add luxury style to your cooking area. But, solid hardwoods are not naturally waterproof. Although, a waterproof finish can make them work for a long. Despite all of its lows, people still prefer hardwood flooring in their homes. Also, you have to add friction to avoid slipping.
The hydraulic tiles are high-quality kitchen floor tiles. Also, they offer a great look for the kitchen. Well, they are made from cement and painted in a handmade way. So, you may choose any color for your kitchen tiles. The mix of colors makes the people around happy and fun. This one is ideal for decorating retro kitchens. Similarly, they are easy to clean. But, use only water and neutral detergent to avoid damaging the designs.
This one is also popular in home interiors. Marble is the best option for those looking for elegance. But, it has some demerits, such as price and ease of staining. On the other hand, marble tiles are also suitable for kitchen use. You could clean them with warm water and detergents.
Marble floors are made from stone and polished afterwards. Also, their texture is smooth. They can resist weather impacts, cleaning products, and moisture. In addition, they are present in different colors and tones. Yes, they are expensive pieces but add value to the property.
The burnt cement floor is one of the least costly options in the market. Its smooth and shiny texture is one of the main strengths of this type of flooring. Also, this one is perfect for a rustic kitchen. In addition, it is pretty easy to clean, which makes dirt not so clear. Plus, it has durability and style. 
The use of some harsh chemicals can cause stains on the cement floor. So, care is vital in all cases. In the same way, it is suitable for homes located in hot regions. It makes the kitchen cold for good reasons.  
This type of flooring is an alternative to other types. If you only want to cover the blemishes, go for laminate floors. Also, its planks are easy to clean. In addition, you will find them in various models. So, if you wish to have a wooden look, laminate can do that. It will look like a wooden floor. In the same way, it works as a finish on the top.
Vinyl is not only beautiful but also durable. Many people opt for this type of flooring for new homes. It comes in both planks and tiles form. Also, it combines both PVC and other minerals. You will find these in various textures. Also, they are smooth and soft underfoot. 
Moreover, it might not carry the weight of refrigerators and stuff. So, beware of heavy devices. Also, any sharp furniture can damage its material. In that case, apply the seal as soon as it gets installed. 
Also check: https://nesttile.com/collections/travertine
Conclusion:
In 2023, you will be amazed by the choices you have in home décor. When it comes to kitchen floor tiles, ceramic, porcelain and, marble are some popular choices. But, hardwood and vinyl floors are also under the roof. So, you can see the most in-demand options above. You can go for the one that is stylish and practical for your home.