"The pandemic didn't discriminate on students," Miguel Cardona, the education secretary, told reporters during a phone call on Monday that previewed the administration's plans. "We know that the final rule will include all students, and we want to make sure that all students have an opportunity to have access to funds to help get them back on track."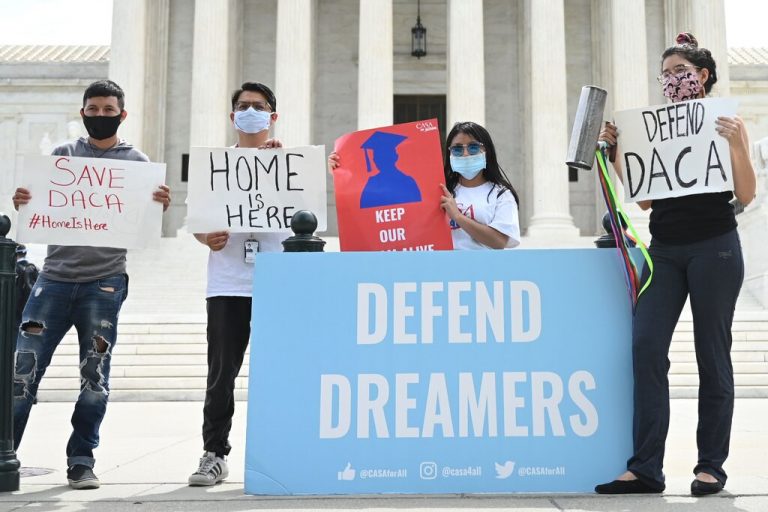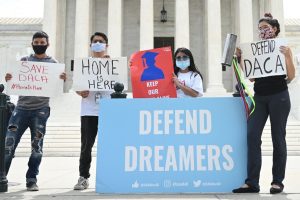 The decision is a 180-degree pivot from attempts made by Trump administration officials to block most immigrant students from accessing aid. Last June, Betsy DeVos, the education secretary for Donald J. Trump, issued an emergency rule that barred international and undocumented students — including tens of thousands of so-called Dreamers protected under the Deferred Action for Childhood Arrival program — from accessing an earlier round of more than $6 billion in emergency relief funds. That decision was quickly met by legal challenges.
For months, Biden administration officials considered whether to extend emergency benefits to undocumented students, who are not eligible for other forms of student aid. Under existing welfare laws, undocumented immigrants remain largely ineligible to receive money from federal programs, including funds provided by the $1.9 trillion pandemic relief package that President Biden signed on March 11.
On Monday evening, a spokeswoman with the Education Department, who was not authorized to publicly detail the planning, said that the administration had the authority to disperse funds to undocumented students through the Higher Education Emergency Relief Fund established as part of the $2.2 trillion CARES Act that former President Trump signed in March of last year, and that Congress had "not drawn sharp lines around who is a student" when determining who could receive money from that fund.
Existing eligibility requirements for the fund "makes it clear that emergency financial aid can support all students who are or were enrolled in an institution of higher education during the COVID-19 national emergency, and it is up to the institution to distribute the funding to students most in need," the spokeswoman said in a statement. (Last year, Ms. DeVos relied on a similarly vague definition to create the Trump-era rule.)
Previewing the decision to reporters, Mr. Cardona framed it as a matter of expediency: "What it does is really simplify the definition of a student. It makes it easier for colleges to administer the program and get money in the hands of students sooner."
About half of the $36 billion earmarked for colleges will go directly to students, Mr. Cardona said, and some $10 billion will be dispersed to community colleges.
Aside from direct grants to individual students, the funds are expected to be used to bolster academic support services, purchase laptops, and expand mental health programs. All students, including those who have not previously formally applied for federal aid, are now eligible for aid, according to the Education Department.
Liberals who have made the bill, H.R. 1, their top legislative priority hailed the debate and anticipated vote in the Senate Rules Committee as a significant milestone. If enacted, it would effectively override laws emerging in states like Georgia and Florida that raise barriers to vote with national requirements meant to lower them — like automatic voter registration, no-excuse early and mail-in voting and the re-enfranchisement of former felons.
But with Republicans digging in to oppose the 800-page bill, the parties were expected to deadlock on a final vote by the committee, which is evenly divided between the two parties. That outcome would deny the bill its outright approval, and complicate an already steep path forward to passage on a Senate floor, where Democrats' only chance of making it law most likely requires them to change chamber rules to bypass the legislative filibuster.
During a tense debate on Tuesday, Democrats feigned trying to build bipartisan support. But they spent much of their energy attacking Republicans for what they called an orchestrated campaign, staked on false claims of election fraud by President Donald J. Trump, to make it harder for Americans of color and young people to vote.
"What are my Republican colleagues in the Senate going to do?" Senator Chuck Schumer, Democrat of New York and the majority leader, said at the session's outset, calling the debate a "legacy defining choice."
"These laws carry the stench of oppression, the smell of bigotry," Mr. Schumer added. "Are you going to stamp it out, or are you going to spread it?"
Republicans showed no signs they would change course, and adamantly defended states' rights to set elections laws. Mr. Schumer's Republican counterpart, Senator Mitch McConnell of Kentucky, slammed the bill as a liberal power grab "cooked up at the Democratic National Committee and designed to advantage one side to the disadvantage of the other."
"Our democracy is not in crisis, and we're not going to let one party take over our democracy under the false pretense of saving it," he said.
They were prepared to offer dozens of amendments trying to strike or draw attention to provisions they find particularly objectionable, like the restructuring of the Federal Election Commission and establishment of a public financing system for congressional candidates. Both parties said amendment debate could push a final vote on the bill into Wednesday morning.
Democrats will also propose technical and substantive tweaks during Tuesday's session to address concerns raised primarily by state elections administrators who complained that some voting provisions would be expensive or onerous to implement. For now, though, they do not plan to remove any of the bill's main pillars, which also include strict new ethics requirements for the White House and Congress, an end to partisan gerrymandering of congressional districts, and new disclosure requirements for dark money groups.
Liberal activists are putting intense pressure on Democrats to change Senate rules to allow it to pass with a simple majority, rather than the 60 votes currently required to break a filibuster. Senator Joe Manchin III, Democrat of West Virginia, has rejected that approach so far. He has called for narrower legislation focused on expanding early voting and ballot security, and insists he will not vote to change Senate rules around the filibuster.
Democratic senators plan to meet privately Thursday afternoon to debate how to move forward, according to two Democratic officials. Proponents of the bill fear that if Congress does not act quickly, there will not be time to implement the changes before 2023.
The F.B.I., clearly concerned that the ransomware effort could spread, issued an emergency alert to electric utilities, gas suppliers and other pipeline operators to be on the lookout for code like the kind that locked up Colonial Pipelines, a private firm that controls the major pipeline carrying gasoline, diesel and jet fuel from the Texas Gulf Coast to New York Harbor.
The pipeline remained offline for a fourth day on Monday as a pre-emptive measure to keep the malware that infected the company's computer networks from spreading to the control systems that run the pipeline. So far, the effects on gasoline and other energy supplies seem minimal, and Colonial said it hoped to have the pipeline running again by the end of this week.
According to intelligence officials, all of the indications are that the episode was simply an act of extortion by the group, which first began to deploy such ransomware last August, and is believed to operate from Eastern Europe, possibly Russia.
Mr. Biden, who is expected to announce an executive order in the coming days to strengthen America's cyberdefenses, said he planned to meet with President Vladimir V. Putin of Russia soon and he suggested Moscow bore some responsibility because DarkSide is believed to have roots in Russia and the country provides a haven for cybercriminals. Mr. Biden and Mr. Putin are expected to hold their first summit next month.
On Monday, DarkSide argued it was not operating on behalf of a nation state, perhaps in an effort to distance itself from Russia.
"We are apolitical, we do not participate in geopolitics, do not need to tie us with a defined government and look for our motives," said a statement posted on DarkSide's website. "Our goal is to make money and not creating problems for society."
Colonial's pipelines feed large storage tanks up and down the East Coast, and supplies seem plentiful, in part because of reduced traffic during the pandemic. Colonial issued a statement on Monday saying its goal was to "substantially" resume service by the end of the week, but the company cautioned that the process would take time.
Elizabeth Sherwood-Randall, Mr. Biden's homeland security adviser and a former deputy secretary of energy in the Obama administration, said that the Energy Department was leading the federal response and had "convened the oil and natural gas and electric sector utility partners to share details about the ransomware attack and discuss recommended measures to mitigate further incidents across the industry."
The proposal, one in a series the governor plans to make this week in his annual budget revision, takes advantage of a remarkable turnaround in the state's financial picture that comes not only as California emerges from the coronavirus pandemic, but also as Mr. Newsom works to defuse an expected recall election.
Mr. Newsom's motivation is not entirely political: Rebate payments are required by May 2023 under the provisions of a 1979 state spending limit. That law, passed by voters as part of a tax revolt that swept the state, calls for a taxpayer rebate if per capita spending, adjusted to account for growth, exceeds a certain level for two consecutive years.
In less than a year, the state's financial picture has swung from bust to boom, thanks largely to California's tax system, which relies heavily on the kind of higher-income workers who were able to work from home and thus keep their jobs during the pandemic.
The state cashed in not only on income taxes but on taxes on capital gains from the booming stock market as investments made affluent Californians wealthier and as a number of California-based start-ups went public. That rebound, along with a $26 billion infusion of federal stimulus money, sent the state budget soaring.
"California is not just back — California is roaring back," Mr. Newsom, a Democrat, said on Monday in a news conference in Oakland, where he appeared with the chairs of the state budget committees and ignored questions about the recall.
California was among many states that initially predicted that the pandemic would be catastrophic for budgets, but many of those projections have become less dire in recent months. A report by the National Conference of State Legislatures found that more than 30 states have revised their revenue forecasts upward from the start of the pandemic, allowing some to revisit cuts they previously made.
A handful, including Idaho, have proposed their own form of stimulus or tax relief, but none approximating the scope and scale of Mr. Newsom's plan.
President Biden enjoys widespread job approval, as Americans' optimism about the future continues to climb, according to a poll released Monday by The Associated Press and NORC.
Sixty-three percent of Americans said they approved of the work Biden was doing as president, while just 36 percent disapproved. That spread of 27 percentage points represents the widest approval margin in an A.P./NORC poll since Mr. Biden took office.
The president continued to receive broadly positive marks for his handling of the coronavirus pandemic, with seven in 10 respondents expressing approval. His approach to health care policy got a thumbs-up from 62 percent of Americans, and 54 percent approved of his work on foreign policy.
Fifty-seven percent of Americans said they approved of the job he was doing on the economy, while just 42 percent disapproved — although the poll was conducted from April 29 to May 3, before the administration released a disappointing April jobs report showing that the country was missing its targets on employment.
With migrants continuing to arrive at the southern border in high numbers, the poll found that just 43 percent of Americans approved of Mr. Biden's handling of immigration. Fifty-four percent disapproved.
But for the first time in A.P./NORC polling going back four years, a majority of Americans said that the country was headed in the right direction — possibly driven in part by the decline in coronavirus cases nationwide.
Fifty-four percent of respondents said things were going right in the country, while 44 percent said things were on the wrong track. That shift is being fed by a rise in optimism among political independents: Nearly half of them said that things were moving in the right direction, according to the poll.
Since January, the A.P./NORC poll has consistently found at least six in 10 Americans approving of the president's job performance, putting it on the more Biden-friendly end of the polling spectrum. (NORC polls are conducted using its probability-based AmeriSpeak Panel, with most respondents completing the survey online and a small number contacted by phone.) But polling averages consistently show Mr. Biden's approval rating over 50 percent.
Glenn Youngkin campaigning at a drive-through convention site in Annandale, Va., on Saturday.Credit…Bill O'Leary/The Washington Post, via Associated Press
Glenn Youngkin, a wealthy first-time candidate who walked a line between his party's Trump-centric base and appeals to business interests, won the Republican nomination for governor of Virginia on Monday. He heads into a general election in one of only two states choosing their governors in 2023, in the latest running of an off-year race often viewed as a referendum on the party holding the White House.
Late Monday, Mr. Youngkin's last remaining rival, Pete Snyder, conceded the race. "I send my heartfelt congratulations," Mr. Snyder wrote on Twitter. "He + the ticket have my 100% support."
The results were tabulated by Republican officials two days after roughly 30,000 voters cast ranked-choice ballots at 39 locations around the state. Mr. Snyder conceded after more than 12 hours of vote counting, in which five candidates were knocked from contention, one by one, and their supporters' next-choice votes were allocated to others still in the running. In the sixth round of counting, Mr. Youngkin passed the required 50 percent threshold.
The unusual nominating process came after an internal party squabble in which Republicans rejected holding a traditional primary, which would have drawn a larger and more diverse group of voters. Former Republican officials from an era before the party fell hard from power in Virginia criticized the nominating process as likely to increase the G.O.P.'s marginalization.
But neither of the two candidates who most closely aligned themselves with former President Donald J. Trump — who did not endorse anyone — prevailed, raising Republican hopes for the November election.
Mr. Youngkin will face the winner of the Democratic primary next month. In that race, former Gov. Terry McAuliffe has held a significant lead in fund-raising as well as in recent polls over four rivals.
— Trip Gabriel
The Biden administration approves the nation's first major offshore wind farm.
Wind turbines near Block Island, R.I., one of only two offshore wind farms operating in the United States.
Wind turbines near Block Island, R.I., one of only two offshore wind farms operating in the United States.Credit…Chang W. Lee/The New York Times
The Biden administration on Tuesday announced its final approval of the nation's first commercial-scale offshore wind farm, a major step toward President Biden's goal of expanding renewable energy production across the United States.
The Vineyard Wind project calls for up to 84 turbines to be installed in the Atlantic Ocean about 12 nautical miles off the coast of Martha's Vineyard, Mass. Together, they could generate about 800 megawatts of electricity, enough to power about 400,000 homes. The administration estimates that the project will create about 3,600 jobs.
The idea of a wind farm off the Massachusetts coast was conceived two decades ago but ran into repeated setbacks, delays and well-funded opposition from waterfront property owners before the Trump administration moved to cancel the project's permitting process.
The Biden administration jump-started progress on Vineyard Wind in March as part of its larger push to tackle climate change.
"A clean energy future is within our grasp in the United States," Interior Secretary Deb Haaland said Tuesday. "The approval of this project is an important step toward advancing the administration's goals to create good paying union jobs while combating climate change and powering our nation. Today is one of many actions we are determined to take to open the doors of economic opportunity to more Americans."
The administration has pledged to build 30,000 megawatts of offshore wind in the United States by 2030. It's a target the White House contended would spark $12 billion in capital investments annually, supporting 77,000 direct and indirect jobs by the end of the decade.
— Lisa Friedman and Coral Davenport
Semiconductor makers and users form a group to push for chip funding.
President Biden has called for $50 billion to encourage domestic semiconductor production as part of his infrastructure plan.
President Biden has called for $50 billion to encourage domestic semiconductor production as part of his infrastructure plan.Credit…Doug Mills/The New York Times
Semiconductor companies and big businesses that use chips have formed a new coalition to push for tens of billions of dollars in federal funding for semiconductor research and manufacturing in the United States.
The new group, the Semiconductors in America Coalition, announced its formation on Tuesday amid a global semiconductor shortage that has caused disruptions throughout the economy. Its members include chip makers like Intel, Nvidia and Qualcomm and companies that rely on semiconductors, like Amazon Web Services, Apple, AT&T, Google, Microsoft and Verizon.
The coalition is calling on Congress to provide $50 billion for semiconductor research and manufacturing, which President Biden has proposed as part of his $2.3 trillion infrastructure package.
"Leaders from a broad range of critical sectors of the U.S. economy, as well as a large and bipartisan group of policymakers in Washington, recognize the essential role of semiconductors in America's current and future strength," said John Neuffer, the president and chief executive of the Semiconductor Industry Association, a trade group.
In a letter to congressional leaders, the new coalition noted the shortage of semiconductors and said that in the long term, federal funding "would help America build the additional capacity necessary to have more resilient supply chains to ensure critical technologies will be there when we need them."
The shortage has been acutely felt in the auto industry, forcing carmakers to idle plants. Ford Motor said last month that it expected the shortage to cut vehicle production by about 50 percent in the second quarter and lower the company's profit by about $2.5 billion this year.
The new coalition does not include any automakers, which have their own ideas for how the government should encourage domestic semiconductor manufacturing. In a letter to congressional leaders last week, groups representing automakers, automotive suppliers and autoworkers expressed support for Mr. Biden's $50 billion proposal but emphasized the need to increase manufacturing capacity for automotive-grade chips as part of the effort.
The letter — from the American Automotive Policy Council, the Motor & Equipment Manufacturers Association and the United Automobile Workers union — suggested providing "specific funding for semiconductor facilities that commit to dedicating a portion of their capacity to motor vehicle-grade chip production."
In a letter to congressional leaders last month, technology trade groups argued against setting aside new production capacity for a specific industry, saying that such a move would amount to "unprecedented market interference."
Watch! Wrath of Man (2023) Movie Online Full HD Free
Watch! Wrath of Man (2023) Movie Online Full HD Free
Watch! Wrath of Man (2023) Movie Online Full HD Free