Missiles traded by Israel and Palestinian militants. Death and destruction in the long impoverished Gaza Strip. Terror on Israeli streets as rockets light up the night sky. And an eventual cease-fire that calms the violence — until it flares up again next time.
It's a grim, familiar cycle that has haunted the Middle East for decades and bedevilled successive American administrations. But this time, President Joe Biden said that he believes there is "a genuine opportunity to make progress" toward Israelis and Palestinians living in peace.
It's a big pitch that would require making headway on a seemingly intractable problem with ancient roots and a litany of contemporary complications.
"We have been in this situation before: It's like 'Groundhog Day,'" said Yossi Mekelberg, a senior consulting research fellow at Chatham House, a think tank in London.
Some experts see glimmers of hope this time, however.
Biden and his team are viewed by many internationally as more competent and even-handed than their predecessors in the Trump administration, which broke with decades of U.S. foreign policy by recognizing Jerusalem as Israel's capital and condoning Jewish settlements in the West Bank.
"Biden has a secretary of state in Antony Blinken who really understands the conflict," Mekelberg said. "And he has his special envoy, Hady Amr, a guy who understands the ins and outs of the country more than most."
There is also a sense from experts on the region that pressure from progressive Democratic lawmakers to scrutinize Israel's actions has had an impact on Biden's thinking.
"With key Democratic Party voices challenging the pro-Israel hegemony within their own party, the U.S. political landscape is gradually changing," Fawaz Gerges, professor of international relations at the London School of Economics, said in an email.
Download the NBC News app for breaking news and politics
Pro-Palestinian activists have also found hope in the international expressions of support over the past two weeks and criticism of Israel that was growing internationally even before this latest conflict.
In April, Human Rights Watch released a sweeping report saying Israel was guilty of "apartheid" in its treatment of the Palestinians within its borders and occupied territories. Israel vehemently rejects this characterization, and sees Gaza as a hostile territory governed by Hamas, which it and the U.S. classifies as a terrorist group.
After the fighting reignited on May 10, demonstrators protested in world capitals and were joined by celebrities on social media and high-profile soccer stars displaying solidarity with the Palestinian cause.
Such protests have been amplified by a more unified voice from the Palestinians themselves, some of whom took to the streets of the occupied West Bank and cities throughout Israel to protest what they see as an untenable and imbalanced situation.
"The Palestine cause is alive and well," Gerges said. "The world has come to see the futility and untenability of the status quo."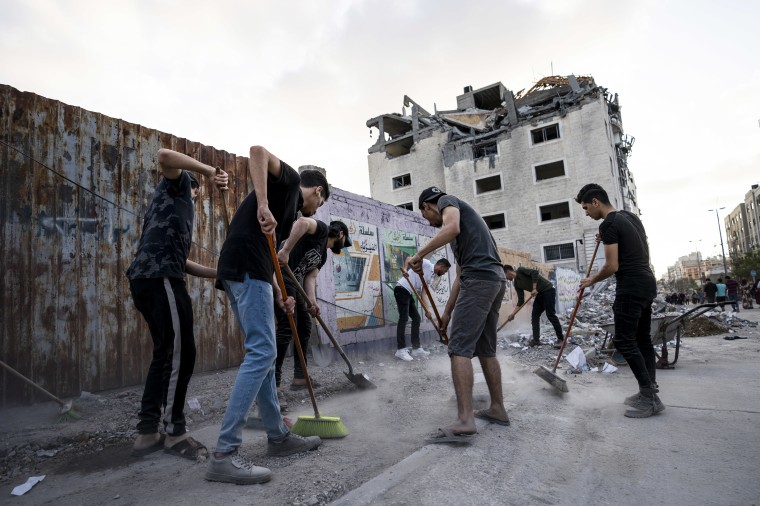 Many observers, however, remain skeptical that this time will be any different. Cease-fires following the Gaza wars of 2009, 2012 and 2014 granted a fragile, restive peace for a few years before the fighting reignited once again.
Decades of peace talks, sometimes mediated by the U.S., have consistently failed to achieve a solution. The collapse of the Oslo Accords in 2000 saw the region descend into years of strife.
"This round of violence and its aftermath will probably follow the same pattern as the previous three rounds," said Greg Shapland, an associate fellow at Chatham House. "That is: Large-scale attacks from both sides will stop, probably for several years, but occasional breaches of the cease-fire will continue to occur."